Healing Facilitator & Consciousness Guide
Staff member
Administrator
Creator of transients.info & The Roundtable
Jul 19, 2016
5,262
13,606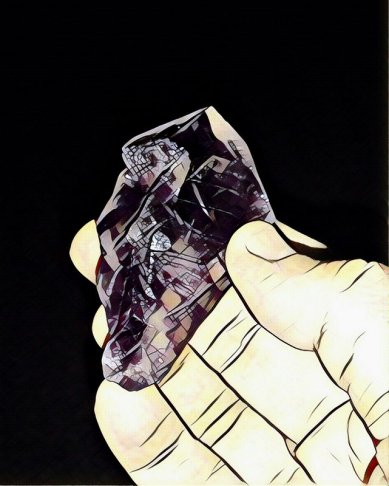 ​
Using the mobile app software Prisma, I tapped one of their filters and the above image came out after I had selected a photo I took last night with my flash on, in the dark, of my favorite amethyst quartz crystal. While I have some larger pieces, this one has remained with me for many years and has a really deep purple inside. At one stage I was carrying it in my pants pocket for a year or so when working in I.T.
The mineral amethyst is great at attracting positive energy and clearing away the negative energy — including emotions such as anxiety, stress and fear. A quartz amethyst can assist with purifying the energy field of negative energy and act as an energetic shield.
As far back as 10,000 BC the Neolithic people in Europe, and ancient Egyptians, prized the amethysts for their legendary beauty and energy. Greek and Roman societies placed them in high regard because of their healing powers.
They were considered a gemstone of royalty, having been used in crowns, sceptres and rings of bishops. The name 'amethyst' comes from the Greek, 'ametusthos', meaning 'not intoxicated.' The're also known as 'the gem of fire' by the ancient Greeks.
On top of soothing emotions and providing protection, they can bring inner strength and clarity. It's a great mediation stone, helping one to get to know themselves a bit easier and to go deeper.