QHHT Hypnotherapist, Energy Healer, SpiritualCoach
Staff member
Administrator
Creator of transients.info & The Roundtable
Jul 19, 2016
6,793
14,997
This year I started creating my own memes to share on my personal Facebook page. Many of them go viral as I've closely followed patterns around what works, what doesn't, and how they should be displayed. I'm getting better and better at it over time. My most popular image has had 39,000 people hit the share button on in, on Facebook (tree of life light show on the side of the Sydney Opera house).
I wanted to pass on a tip for those with the skills and passion to create memes.
Artwork from artists, whether digital or paintings and drawings, makes a huge difference with getting people's attention. People love a nice picture, so if you want to include a quote, or share some important information such as a spiritual teaching, then sticking it above, or on (if it fits), a nice piece of artwork that is in the context of your message, can make a huge difference.
The Tip
Find an artist that you love the work of and then contact them over email through their personal site to ask them for permission to use the art in whatever way you plan to, but make sure you tell them you will credit them.
This is what I do. If they say yes, this allows you access to all their images, under the conditions of what they agree to with you.
Example: I came across the artist Erica Wexler. She has a Facebook presence here,
https://www.facebook.com/pg/EricaWexlerArt/
, and her home page is here,
http://surrealismartbyericawexler.bigcartel.com/
. From her home page I found her email and contacted her. She got back to me and said yes!
Here's one of her images below, which is one of my favorites of hers: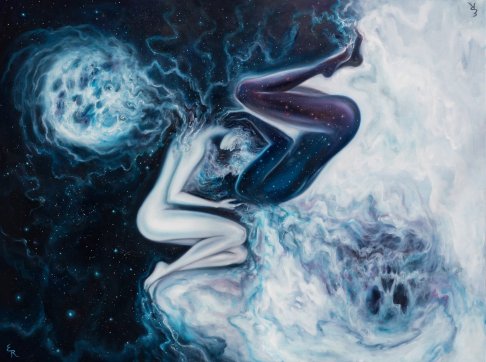 And what is a meme exactly? Here is a Wikipedia entry describing them:
https://en.wikipedia.org/wiki/Internet_meme