Metaphysical & Spiritual Teacher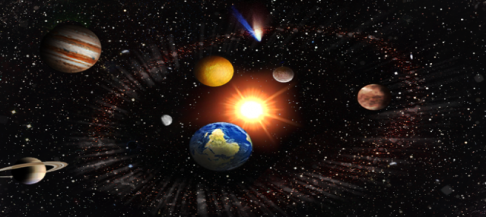 ​
There is very little left, in "cosmic" terms, for all the Eur systems to complete their evolutionary leap and almost all the races and species, planets and solar systems are already comfortably settled in the next "course," each one with what corresponds to it, which will take us through another "cosmic" cycle through its own evolutionary spiral until, within another few "eons," will be necessary to start the whole process again. But we haven't finished this one yet, so let's not get out of our story.
When a planet "rises" in level, it does not immediately discards the "old" structure of the lower level, so that, although the logos of most planets throughout the galaxy are already at the next evolutionary level, whatever it is the one that corresponds to it within the almost 350 that exists in Eur, we can still see with our telescopes lots of "physical" planets that, apparently, do not have "life," or, at least, it seems so.
As an analogy, in reality, it is a bit like seeing the "shedding" of the skin of those animals that, at the end of each cycle of their lives, leave the "shell" of what they were almost intact, while they move on with their processes, but giving the impression, if someone were to see that "shell" from afar, that this animal is still there, alive, in that structure.
The same happens with almost all the planetary systems that we can observe with our telescopes. We see their "old" structure, the one they had billions of years ago, and we can send a "rover," a ship, and land on those planets because they are "solid" to our perception of what matter is, but that does not mean that there is life that we can detect or that the logos is at that level, rather we are seeing or perhaps trying to "colonize" planets whose logos and races that inhabit them are already at the next evolutionary level, and we simply leap on and land in its "shell," devoid, to our senses and technology, of "physical life". This is not the case on all the planets of Eur, as we have said, there are still a couple of hundred races that are almost as material as we are, but they are also in the process of moving up to their next "evolutionary course".
So, where is the structure that supports and acts as an avatar of this planetary logos? Where have the races or species that inhabited it moved? They have been moved to a higher order structure, located in the same spatial position, temporarily anchored on the previous one, and which was built by duplicating and using the existing structure as a template.
I think this already helps us to remember the concept of the "new Earth," as we have called the higher order structure that our Kumar logos has been building for approximately the last 200 years, and about which we have spoken at length in multiple posts in the blog.
Now, perhaps it is time to announce it, the nE is completely finished, until the last monad, from the physical plane to its highest level and plane. The home of the "new humanity" is now ready and prepared to be inhabited.
What does this mean? It means that Kumar is closing his octave as responsible for being Eur's "galactic support," since almost everything he has to double and raise in frequency in the Milky Way has already done, or is about to be completed, and, therefore, now it is time for the entire galaxy to assist Kumar to climb himself to his next course. And, if Kumar has to go up, the race that has played the role of sustaining the material and energy density, we, the human species, has to do the same.
Therefore, now all Eur is focused on the evolutionary leap of our planet, because we are the last (in parallel with a few who also stayed behind to help), since we had to be, and, for this, millions of beings assist and have assisted building the nE, to create its plans, its structures, to provide it with animal and plant life, to prepare the walkways, to begin to provide us with information about it, and, little by little, to prepare to humanity to get out of this reality, and help the human beings, slowly but surely, to know their true purpose, their role in this story, and what, later, after having "passed the academic year," awaits them.
I'll get to that point little by little, first, let's get on with the story.
Let's go back in time, because the Amoss, Asimoss and company were not willing to make everything so easy. That is to say, the Asimoss were and are aware that humanity at some point would slip out of their hands, since all the beings of Eur would help and be aware of the passage of the course, and would collaborate with it, whatever the cost, and they knew that at some point, the "current" Earth would be just a "shell," and, the "new Earth," they could not access it, although in "temporary" terms that is still far in our "future," as Kumar is left with a couple of millennia or more before the cycle leap is fully completed for all Eur.
But these two thousand years that we mentioned does not mean that we have to wait until then to "pass the course," in fact, tomorrow any human being who has reached level 21+ of the timeline 42, would see in his reality, in his own house, around him, dozens of walkways, "bridges" and "openings" that would allow him to cross, literally on foot, from this reality to the next.
We have already commented this in several blog posts, and it seems fictional to our mental programming, but it's that simple. Since the physical plane structure of the nE vibrates at 15.64Hz, when your physical body (and everyone else) vibrates at 15.64Hz the nE will be as solid, material and palpable for you as the walls of your house are now, and, therefore, the doors and "bridges" that connect one reality with another will be perceptible to your physical senses, being able to "leave" and pass the evolutionary level and enter the new physical plane where the following cycle of growth of humanity has to be developed, like someone who leaves a room in the house and enters the dining room through the hallway door. We will discuss all this in detail later on the blog as more people are prepared for it.
And it is that, right now, in the whole planet, there is no one ready to make that evolutionary change. The latest estimates from my Higher Self and those who assist me foresee that there could be a first wave of people who, in about 4-6 years, could reach that level, but there will be no more than a few dozen on the entire planet, due to that, as you can already suppose, things as they are at this moment do not make it easy for the majority of humanity to have that frequency and level of vibration. People who are already somewhat isolated from the rest (and from what is cooking in the world that has an impact on their reality), who carry a strong inner and personal work on their backs, who have not too many things that they have to finish and close to be able to leave this reality behind, those are that are closest, in principle, to having that frequency and vibrational level to approach that level 21 of the timeline 42 and see, physically, the walkways that will allow them to leave this reality and move to the higher one.
Somehow, for those of you who have seen the movie "The Nine Revelations" and leaving aside the fiction that it has imbued, the closest thing to what I want to explain is the final scene in which the protagonists vibrate so loudly that between them solid and material are perceived and known, but other people that are at a much lower level in frequency hardly see them (in the film, in reality it will not be like that, but it is the closest analogy that I can give you at a visual level).
So, going back to the Asimoss, if you live an average of 15,000 years, as the Asimoss, Amoss and the rest of the collaborating races do, you may realize that you will have to leave Earth whether you want it or not in about two thousand years, because it is the maximum time Kumar intends to hold both realities (the current 7.8Hz and the new 15.6Hz) before fully moving to his new avatar (the nE) puts things in perspective.
Therefore, the Asimoss, some centuries ago decided to strengthen their control over humanity to delay this evolutionary leap as much as possible and find a way to stay with the "shell" of the Earth without losing any of its qualities and potentials. They rely on their technology, their knowledge and the assistance of the Amoss, Zuls, Alomiss and company, hence the close collaboration that those races continue to maintain at all times despite their differences.
By the way, the Asimoss plan is to make the 7.8Hz Earth their permanent home, making Gea the base planet, along with their home planet on Amiriss, for the entire Asimoss race, which, since they can no longer evolve by not having connection with the higher structures of Eur for this, so their aspiration, together with the Amoss, Zuls, Animiss, Alomiss, Rashids and a handful of lesser races, is to inhabit and expand their domain to all planetary systems of the physical and etheric plane, where almost all that are there are planets "shell," since there are only a hundred races as physical as the human, and all are in the process of taking the evolutionary leap, as we are.
On the one hand, humanity has no turning back and our roadmap is very marked. Whether in life or after the death of this avatar, all human beings will begin in the coming years, decades and centuries to move to the nE. Those who now pass away without making the evolutionary leap, will begin to use the avatars that the humanity of the nE will create, and will begin another round of incarnations of their Higher Selves in that new course.
Thus, in a couple of millennia, there will be no humanity left on the current Earth, everyone will have gone little by little, without haste, without stress, without pressure, moving to the nE, because they precisely want to avoid what happened to the Amoss, who, when they knew their purpose and were proposed to become the "chosen" race by their planetary logos as a "reward" for the sacrifice made, they refused, because they were not prepared, because they had not been healed, cleansed and deprogrammed its energetic, mental, social structure, in the same way that humanity is not yet prepared to assume, in general, none of this that we have consciously explained.
And it is that Eur understood that this error could not be repeated with humanity, and that is why no evolutionary leap is forced in any way. Two levels are maintained for long enough for all humanity to go through in one way or another, and access to the Asimoss, Amoss and the rest of the races to it is blocked, although that means extending many centuries, in human terms, the assistance that the planet must receive to sustain two levels at the same time, one, the current one, in which we find ourselves, fighting against the RIC and CS that seek to delay the passage of humanity, and another, the new one, to which "we can go now," which awaits "virgin" to be occupied by the Hesiels, which is the name that the humanity of the nE will receive in Irdin.
And why don't the Asimoss and company leave us alone and stay with the "empty" Earth?
The plan to expand throughout the physical plane of Eur and master it, along with the etheric, is not a simple undertaking. It takes millions of living beings that are part of the "stormtroopers," whether they know it or not, to begin to colonize those other planets while the Asimoss, behind the scenes, are the ones who run all those new interplanetary societies that we could create.
As, again, this scratches the total fiction, let us remember that this is still a story, and that it is better to take it as such, so that the mental filters do not discard the concepts that our Higher Selves want to convey to us, and so that these words awaken memories and knowledge that we already have and possess, but which we do not remember.
So, going back to the question of why they don't let us go and they continue with their plan to stay with the empty Earth, the answer is that they still need time. Time for what? Time to create a substitute for the human race. A species that replaces what we are no longer going to do: be more its resources, its "assault troops," its colonizers, its energy sources.
However, creating a new race from scratch is very difficult. It took millions of years to bring the lhumanu to an evolutionary state, ours today, capable of minimally mastering the technology they give us, and we are no even talking about taking us out into space to establish colonies somewhere else. They are really working hard on it, providing humanity with more and more technological knowledge, but, in their terms, we continue to go "very slow," since the logos itself and the planetary forces hold them back, preventing them from developing all this, a project that, to understand each other, we are going to call it the Hybrid Human Project (the name is made up, the RIC calls it different).
This project is literally and exactly what you can see in the West World series, human beings, organic, alive, conscious avatars, who eat, who breathe, who behave like us, because they are made based on us. But these "human-hybrids" do not have a soul or a supersoul or a Higher Self. They have a physical, etheric, emotional, mental and causal structure, and they have an artificial soul body, which is not even really a soul, but a coordinating body of the other four. They have a very similar structure at the level of chakras, meridians, tantiens and other systems. They have an anchor point that keeps them in this reality, but they could move between the different planetary realities if the Asimoss change that attunement. They have a mental structure identical to the human: six mental spheres, a consciousness sphere, an ego program, a lot of basic management patterns, a mental body with the processes of creating and retrieving memories, etc.
They are, therefore, a copy of humanity, but on a biological-artificial level. And that is the "new race" that the Asimoss intends to create in stratospheric numbers to take them away from Earth in their plans for galactic expansion. Whether they are delusions of grandeur or not, that is their intention.
How are they being built or created? They have been at it for a long time. The genetic base is Uyghur genetics, due to its resistance and strength. The base programming of their minds is the programming of the Han Chinese ethnic group. From there, the rest you can imagine. The technological research base is found in the underground of Belfast, in Northern Ireland, where they "test" in society the models that are being developed in China.
We will not go into more detail, as I will talk about this in several articles in the future. For now, the story ends here, a long story, so that you have notions of the most important macro elements that are happening right now on Earth.
Again, we will be the Hesiels of the nE sometime in the future, but we still have work and way to go, and many battles to fight the RIC and SC in the meantime to get there.
A hug,
David Topí
Part 1&2
Part 3
Part 4
Part 5
The article above has been translated from Spanish to English by Carl. Minor editorial changes made by Laron. David has given transients.info direct permission to share his articles in this manner.

This work is licensed under a Attribution-NonCommercial-NoDerivs 3.0 Unported (
CC BY-NC-ND 3.0
). You're allowed to share this article for non-commercial purposes, but you must not edit or modify the contents. You must include all links and images, as well as provide appropriate credit — which includes a link leading directly back to this article at the top of your re-post. You must also include this licence information.
About the Author
David Topi is an engineer, multifaceted writer, trainer and therapist. One of his main areas of focus is educating and helping people through spiritual and personal processes. He is an energy healer and uses the "Akashic" healing technique. He is trained in metaphysics, alternative methods, inherent spiritual abilities and in personal deployment systems that allow humans to express their maximum potential and find answers for their questions. Back in 2013 he created EMEDT, Metaphysics and Transpersonal Deployment School, to provide a framework, organised and structured to the training he teaches. The website for David Topi's Spanish based Metaphysics and Transpersonal Deployment School can be found here,
http://emedt.org
. David Topi's home page can be found here,
http://www.davidtopi.com
(Spanish).