Healing Facilitator & Consciousness Guide
Staff member
Administrator
Board Moderator
Creator of transients.info & The Roundtable
After opening up around 200 Youtube videos from the closed Music
Part 1 thread
(part 2 is open
here
), some of which were no longer available — not available in my country, errors saying they just werent working, some dead links because of copyright infringements — here are 162 that did make it through.
This is a playlist of all the songs from those who added them in Music Part 1 (except the ones that didn't work). I don't use YouTube often so I can't include too much technical babble, but once you open this and play a song, it should keep the playlist going sequentlly if, and you should see the playlist on the right side of the screen for desktop uses.
https://www.youtube.com/playlist?list=PLmeGmZGrhl18Z0bOelBo-DfKHEY1DXL76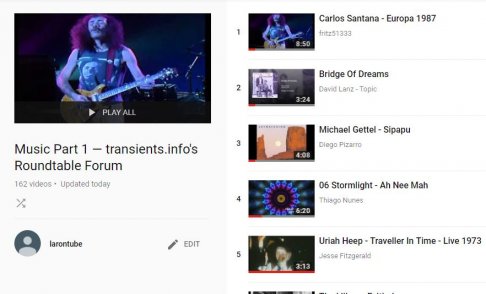 We have music from Disturbed, ABWH, Kalandra, Leonanrd Cohen, Crack the Sky, Led Zeppelin, Pink Floyd, Oasis and many more artists and bands.
Enjoy.