Healing Facilitator & Consciousness Guide
Staff member
Administrator
Creator of transients.info & The Roundtable
Jul 19, 2016
5,404
13,876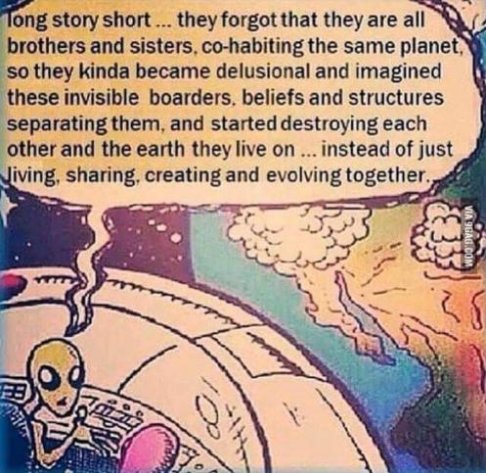 ​
Beings outside of our realm here on Earth, can perceive and live differently in time. What this means is that their perception of things can be quite different to hours.
Based on my understanding, human life was seeded by intelligent multidimensional beings who have checked up and monitored our progress over the years; this is a very simple way of putting things, as there are many other layers to just that one aspect.
Some may take what is being said in the image as nothing more than a joke, and/or unimportant, but it's the truth in a nutshell, as to what has occurred over thousands of years.
There's nothing wrong with what has taken place with civilisation, as we have an ego which helps us live out many different experiences, based on its controlling elements connected into the emotions. If ego didn't exist, there would be no borders and separation.
I just enjoy this picture, whether it's a carton, comic or screen grab from a short film or animation—not sure of the source—as it makes you really think and consider things from another perspective.