For any donation US $5 or above in December, you will get a free digital guided meditation album by Brad Austen ($10 value. Thanks Brad!).
This site transients.info survives based on your support. In addition to the yearly hosting and software maintenance costs, I also put a lot of time in to keep everything up and running.
If you would like to donate, the donation link is always available through the menu, or just click here.
For more information on this guided meditation album, see below. Brad's website, where you can find additonal meditation albums, is right here: https://www.mindful-meditations.com — he also has an iTunes presence here.
Crystal Healing — Guided Meditations by Brad Austen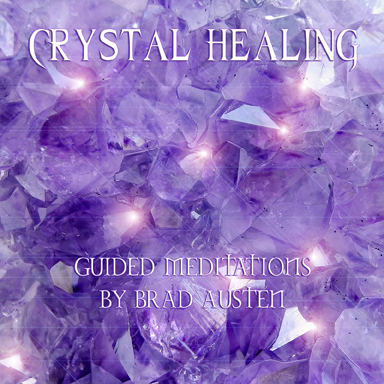 In the changing times we are living in, our paradigm is constantly changing and evolving. New concepts and ideas help to propel humanities consciousness forward and liberate us from ignorance. Some of these meditations on this album may stretch your imagination and paradigm. My intention is simply to open your mind and take you on a healing journey and self-discovery.
We are given the opportunity to embrace the crystalline age, also known as the golden age. Crystals are timeless creations of the mineral kingdom. Crystals are a part of mother earth and help support and sustain a higher vibration on the planet. They store and amplify energy and assist with healing the human body, on an emotional, mental, physical and spiritual level. Crystals assist us in connecting us to the realm of spirit, our higher self and assist in strengthening this connection. Our human bodies are gradually becoming more crystalline, to hold a higher vibration and allow more of our spirit to shine through us.
Many light workers are on the planet at the moment to assist in raising the vibration of the planet. Crystals assist us in this process of our collective ascension into light. Each crystal is unique and contains certain properties to help balance our chakras and aid in physical healing and wellbeing. The guided meditations on this album, guide you to work with crystals in different ways to facilitate your own healing, intuition and spiritual growth. You may be drawn to a particular crystal for healing and then lose or break it later when it is no longer required.
In these meditations we will be working with readily available crystals that are easy to obtain. I will be taking you on a special journey into the inner earth where there are massive caverns of crystal formations and healing temples. We will be merging our consciousness with the crystal skulls to receive insight, knowledge and healing. We will be working with your chakras to bring balance to your mind, body and spirit. Some of these meditations will suit beginners and advanced meditators alike. I sincerely hope you like these guided meditations.
Track Summary
Introduction (4:56)
An introduction into the magical world of crystals and their role to heal, support and strengthen our connection to Mother Earth and our higher selves. Some suggestions are also given to receive the most benefit out of your meditation practice.
Crystal Relaxation Meditation (13:26)
This is a full body relaxation meditation that will equally suit a beginner or more advanced meditator. In this meditation we visualize the light and energy from the crystals travelling into our body and providing relaxation and healing.
Becoming Crystalline Meditation (10:40)
In this meditation the focus is on working with the crystals to assist our bodies in becoming more crystal-like in vibration. Some charka work and affirmations are also given to assist this process of raising our frequency to the crystalline vibration.
Crystal Garden Meditation: (10:44)
In this meditation we visualize ourselves in a beautiful garden. The sun is shining and it is a clear blue day. As we explore the garden we see a beautiful crystal water fountain. We reach inside the well and receive a special crystal tumble stone that we need to work with to assist our growth and healing.
Crystal Skull Meditation (12:20)
In this meditation we are taken on a journey to Tibet to connect with the crystal skulls in a secret cave below the earth. We are given the opportunity to merge our consciousness with the crystal skulls to allow insight, knowledge and healing.
Inner Earth Healing Meditation (21:36)
We are taken on a special journey into the Inner Earth with a guide, to explore the massive crystal formations and receive healing. This meditation will most likely stretch your imagination and paradigm.
Crystal Healing Summary (8:40)
A summary describing some of the most common crystals and their role in healing the mind, body and soul.