There is specific reason that there has been conflict between science and religion here concerning the nature of the creation of existence, and I will explain why. This universe was designed and created from Infinite Consciousness. This universe is contained within Infinite Consciousness which is a bigger embodiment of consciousness and energy. Infinite Consciousness contains pure light energy and pure dark energy. Pure light energy is produced by consciousness and higher frequency vibrations and pure dark energy is produced by consciousness and lower frequency vibrations.  Before this universe was introduced Infinite Consciousness made a decision to conjoin the two frequencies in a more powerful way with a design concept for this universe. To further the purpose of the evolution of infinity. This was done out of love in a very powerful form.
Consciousness and light energy felt a very powerful sense of peace, comfort and tranquility. Consciousness and dark energy felt a very powerful sense of satisfaction, determination and extreme fulfillment. Infinite Consciousness wanted to conjoin the frequencies so the light and the dark could share in each other's experience. This is why love can be expressed here in different degrees. I will give an example. One will feel a certain sensation listening to Sarah McLachlan which is represented by light energy. One can feel a certain sensation listening to TOOL and this is represented by dark energy. Love is incorporated into both experiences. This is what transferred into this universe, and what is experienced within the human race. When this universe evolves fully which is getting a lot more powerful now, other universe's will be created and modeled after this one. That's why this universe was created.
The moment these two frequencies conjoined the Higgs boson was created. This is why this subatomic particle is the foundation for creation in this universe. As the design process continued forward, the consciousness, pure light energy, pure dark energy and combination of frequencies became more powerful and more subatomic particles were produced. This happened because there was pressure involved in this process. Because the two frequencies are different this causes polarity which generates pressure. When the process was happening there were different variables of pressure due to variations of time and space. This is how different subatomic particles were introduced. The aspect of consciousness that was being designed to form this universe was experiencing very powerful changes.
The changes that this consciousness was experiencing produced a very powerful resistance. The resistance came from the change itself because this consciousness had belonged to Infinite Consciousness and was undergoing the change. Also the pressure that was being produced created obscurity so this consciousness that was being formed was unable to detect what the results were going to be with evolutionary development. The subatomic particles that were introduced were a new development with evolution. Love was incorporated into the change and so was resistance to evolution from the pressure being produced. The most powerful love and divinity were the primary reason that this universe was introduced, but there was a new scientific aspect that had developed with the design producing two different elements within the structure of consciousness. The secondary element that came from the development of this universe was subatomic particles. This is how science was introduced into the consciousness of this universe.
This activity transferred into consciousness and energy on planet Earth. This is exactly why there has been conflict between science and religion concerning the nature of existence. The conflict is subsiding with the shift in consciousness and evolutionary development here especially with the discovery of the Higgs boson. There is also a reason for this as well. Because the Higgs boson was the first subatomic particle to be created when the two frequencies were conjoined it doesn't contain any resistance to evolution. This is why the Higgs field doesn't transfer energy. The transfer of energy takes place in evolutionary activity because of the resistance contained in the evolutionary process. The Higgs field represents evolution itself. The Higgs field contains love and divinity. Human beings do not have much interaction with the Higgs field, and this is why there has been conflict between science religion as well.
Love and divinity have to be incorporated into the realm of physics because science was generated out of love and divinity, like I discussed with the introduction of this universe. Consciousness has to be incorporated into physics also because physicists use their consciousness to determine the origin of the nature of physics, and expending energy with time and space while doing this represents evolution as well. Everything is advancing and coming together now with the Paradigm Shift approaching very powerful stages here on Earth. Soon there will be a wonderful integration between ideologies here with a revealing of the truth. The reason this world has seemed somewhat chaotic at times is due to a lack of understanding in what the real truth represents about everything. This is why the Holy Spirit is called the "Spirit of Truth". The Apocalypse means a revealing of the truth. This is emerging quickly now and everyone will experience elation here like they have never dreamed possible. The Holy Spirit is the facilitator of the apocalypse here.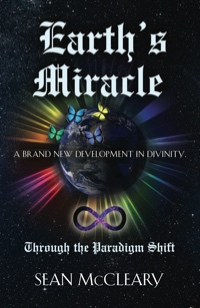 Sean's book, Earth's Miracle Through the Paradigm Shift, is now available on Amazon and Book Locker in both paperback and eBook formats. Sean McCleary describes this period as the revealing of knowledge, and a transition into a heavenly state. He says existence itself is changing and will affect Earth and all of the inhabitants here in remarkable ways. With a detailed explanation as to why the shift is occurring and what the results will entail, he's revealed knowledge inspired by his personal involvement with the shift in consciousness, which also helps the reader's consciousness evolve.