Introduction
This is an amazing and intriguing Wave Tree I have been working on for weeks now. It is highly vibrational and I will post a video of this with my pendulum on my FB page very soon ! My cat seems to like it too.
It was released on September 24, and the message on September 25 with this Full Moon in Aries.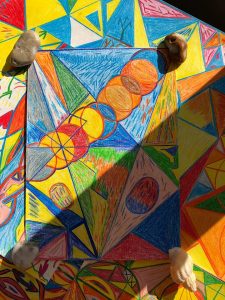 Message of the Wave Tree
This article relates to what I call a "wave tree", it is my artwork, an art therapy, and connecting to what we know as "The Event".
When reading this message I encourage you to listen a very soft and relaxing music. read it out loud and in meditative state so that insights, visions, and new information may come into you. You will for sure have an amazing experience…
« There are bridges to many worlds leading you as a consciousness to multiple places you have never seen before, but which you have to discover, as their knowledge is already stored in your DNA.
You are bringing this back in your current incarnation, you are meeting yourself / your-self as a multidimensional being of Light.
Many of you are in this creative process of allowing your past memory to enlighten your life now.
The knowledge has only one purpose for all of you, as stars are the sacred fire you are made of.
You are Re-collecting this fire from many star systems to Re-member.
Bring again a "member" / part of you, from older worlds, Re-unite with different parts of your soul,
And Be WHOLE again !
Think about this process as a long winding road you are walking in now, as you have allowed your-self to go through this amazing though intriguing journey of the soul, sweet seeds of stars !
Let your intuition and your instinct guide you, and embrace these open doors to your inner worlds.
All worlds are in You
Your heart knows it, and your soul guides you into this blessing Journey of New discovering / discoveries »
More About This Wave Tree
I received this name for my drawing though some of them look like they have nothing to do with earth trees ! But yes they are and they have in them the energy of the trees in all worlds and dimensions and in all shapes.
More portals are opening now with this full moon and the new fire of the Sacred Sun.
In this Wave Tree there are nine worlds / planets / dimensions, surrounded by energy from many star lights and systems, that you can feel when you connect to the geometrical shapes and the colors.
There are some little tiny lines in different colors too as they hold the symbols that would connect you to these different realms.
Below, there are two longitudinal circles with energy flowing inside and which are moving in spherical shapes in the ether and travelling from a world to another and transporting their energies from one dimension to another. They hold information about the field and the way energy light and information travel in the universe and change the realities that are created by the quantum field.
The information I am receiving now while writing this, is channeled from high dimensions, and I feel it is coming from Alcyon at a 13 D. From there all information is flowing in a connection to the Central Sun.
I am seeing blue and red faces around me smiling in a friendly way. Their aura is pure white which is cool and really amazing. They have smiling faces and glowing third eyes.
The tree holds the energies of the Event as it is part of what we are all experiencing now. A deep cleansing may happen to you while connecting to this artwork. It is up to you and according to what you have to release.
If you want to read more about my Wave Trees and their related astral projections you can go to this link here
https://www.transients.info/2017/11/out-of-body-experiences-the-atlantis-cycle/
And here
https://www.transients.info/2017/12/wave-trees-atlantis-cycle/
Conclusion: An Art Therapy Wave Tree
Wave Trees are given to me to heal and spread their energies in waves to help with the shift in consciousness. I am sharing this work with those who feel really drawn to it. I am not manipulating any kind of energy within. Their vibrational frequencies hold the knowledge, the energy and language of the star systems, in all dimensions. Most of them are carried through my out of body experiences and the channeled messages I receive from the universe.
Any feedback from a connection is, as always, welcome.
NAMASTE