This week, the generalized tarot reading for twin flames on their way to each other is related to the topic of deception. It does seem wrong to bring out the positives of deception, you might say, and it would be tempting for us to nod in agreement. This world has seen a lot of it and undoubtedly it has been used to make it a place with a much lower quality of life than what we are used to. And yet, some of the side effects of that are positive and even sought.
What we want to talk about is the currently diminishing ability of planetary humans not to remember past lives.
Deck: Tarot of the Hidden Realm
Spread: Past-Present-Future Spread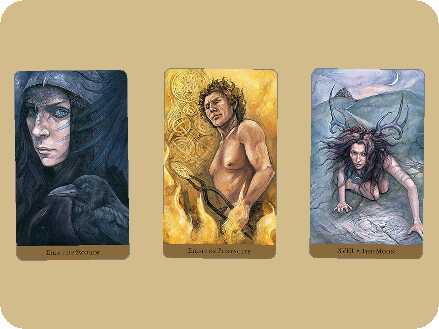 The Past – Eight of Swords
You might be surprised to learn how many times you were in a perilous situation, or just one in which you felt very uncomfortable, and yet you managed to handle it much better that what we would expect. Why? Because you were not burdened by memories of past failures, of mistakes you made that cost you dearly.
Of course, the opposite can be true as well. We recently saw one of our champions falter with fear not aware that his soul has been able to deal with predicaments that were much harder. But… we would say that many of you that are here have a reason to experience the veil of oblivion that is an irregularity of a kind. Some of us regard it as a breach of the laws of love and light, and this group within our ranks defends their point of view with near-religious zeal.
The Present – Eight of Pentacles
How wonderful it is to fall in love again with your eternal partner, to rediscover the love that is what you heart of heart desires. One can never get tired of that, as some of our twin flames would reveal.
Objectively speaking, not all of those relationships wrought in this realm are divine masterpieces and we feel pain too when the blacksmith hits his hand instead of the iron, but this is one of the rules of the game that is coming to its natural end.
The Future – The Moon
The Moon is the centerpiece card of today's reading, as the card that symbolizes deception. Some of you may find that they have gotten messages and feelings wrong and have fallen victims to karma or unmet desires.
If this is the case with you, we would ask you to sit aside and take a look at what the deception has given you as a perspective, as a tool that made you discover something about yourself, a lever that pushed you beyond your capabilities.
In other words, love yourselves, as divine expressions of Source.
Love and Blessings,
Ivailo
PleiadianTwinFlames
If you want to book your personalized twin soul reading, please follow the link:
https://www.etsy.com/shop/PleiadianTwinFlames?ref=seller-platform-mcnav. If you want to stay tuned for the readings to come, or want to check out the previous ones, please like our FB Page: https://www.facebook.com/pleiadiantwinflames/

This work is licensed under a Attribution-NonCommercial-NoDerivs 3.0 Unported (CC BY-NC-ND 3.0). You're allowed to share this article for non-commercial purposes, but you must not edit or modify the contents. You must include all links and images, as well as provide appropriate credit — which includes a link leading directly back to this article at the top of your re-post. You must also include this licence information.