The generalized reading for twin flames on their way to each other continues with its plan to connect to the energies of famous twin souls from higher realms. Today, we are trying to deliver a message from Shiva and Shakti, which is a way to honor the people from India we've worked with and who are used to connecting to them.
Deck: Tarot of the Hidden Realm
Spread: Past-Present-Future Spread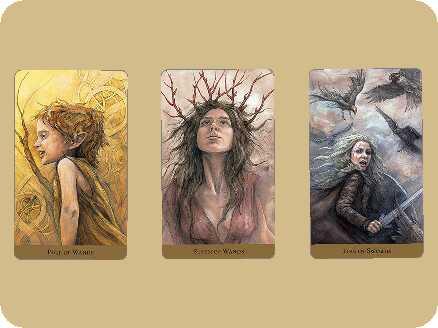 Past
Page of Wands
Compared to the creator gods, people are like children. Their life spans last for only a fraction of a moment that is usually simply not enough to embrace the full potential of their divinity. Hinduism has played certain role in the quickening the awakening of humanity and now the work is bearing more and more fruit.
But the message we get is that we should accept ourselves and each other as children and allow the kid inside to be our guide. Innocence, benevolence, accepting others as friends and not holding grudges for a long time – this is what the inner child calls for. And if others do harm to you, fight for your right, but also know that their actions often times comes from the fact that they, just like kids, don't really know what they are doing and what the consequences of their actions will be.
Present
Seven of Wands
Children usually attend schools which are safe and learn surrounded by a lot of love. Unfortunately, this is not always the case with the earth school that often times proves to be one of hard knocks. Is there anybody among you who hasn't fallen down and wriggled in agony? In this case, try to see the lesson that needs to be learned, dust off your clothes and stand up, looking at the sky. Do not forget that heaven where you all come from and heavenly beings you are.
Future
Five of Swords
Many of you who are aware of your twin incarnated on earth are wondering when you will be together. The answer we could give is simple. When both of you stop fighting.  It is indeed true that this realms needs warrior souls as they are agents of the imminent change that is to take place within the lifetimes of most of you.  But when it comes to the relationship with your twin, there is no need to fight but to surrender. The forces that bind your souls together are strong enough to do their job just like rivers flow into the sea. Often times twins would consider going for a roundabout or having experiences away from each other. This is an option related to the power of free will, but we would recommend that twins be with each other as soon as the work they need to do is done.
Love and Blessings,
Ivailo
PleiadianTwinFlames
If you want to book your personalized twin soul reading, please follow the link:
https://www.etsy.com/shop/PleiadianTwinFlames?ref=seller-platform-mcnav
P.S.: If you want to stay tuned for the readings to come, or want to check out the previous ones, please like our FB Page: https://www.facebook.com/pleiadiantwinflames/

This work is licensed under a Attribution-NonCommercial-NoDerivs 3.0 Unported (CC BY-NC-ND 3.0). You're allowed to share this article for non-commercial purposes, but you must not edit or modify the contents. You must include all links and images, as well as provide appropriate credit — which includes a link leading directly back to this article at the top of your re-post. You must also include this licence information.