I have been prompted to do an extra reading this week in order to reflect on the intensifying energies of change that are giving a bit of a hard time to many because they come as a disturbance to the stability that everybody loves to feel.
Deck: The Steampunk Tarot
Spread: The One-Card Wonder
Date: Monday May 14, 14:46:55 GMT+03:00, 2018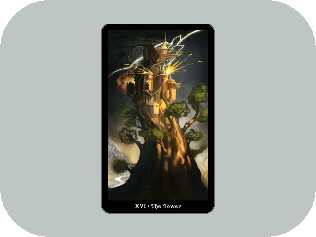 Your Card
XVI • The Tower
The tower is one of the cards in tarot that signifies change and change has been constant forever. It is how the soul has new experiences and grows, although it is of little solace when you face the fear that goes with suddenly losing the floor under your feet. Take a look at the tower that has been built with the hope to last forever but when a lightning strikes it is turned into rubble.
Many have experienced that in their personal lives and our hearts are filled with sorrow for those of you because we are connected to you in a psionic network of a kind. Sometimes this is necessary so that the old can make room for the new. We say, do not lose the spark of hope and let fear overwhelm you. So many of you have been through so much worse in other incarnations and were able to see the light of new days and the completion of the missions you have assigned to yourselves.
We feel even worse for those of you who feel not a tower but the bridge to your twins destroyed by the lightning. It is hard for us to believe that anybody can be separated from their twin for a long time, as the forces that bind the two souls made from the same energy are strong. What we would recommend to those in separation is to try to connect to the place on the other side where they are whole and complete and be armed with the assurance that nothing that seems lost in this life is really forsaken. It is an illusion that rules this realm.
It would be a breach of conduct to claim that a couple is linked by a twin soul relationship (or not), but we are aware that the concept has been used to prolong karmic enslavement. Would you believe us that each of you has the necessary machinery to see through the illusions and to get rid of the karmic vestiges? It may need a bit of a practice, and for some – a bit of extra help while you are making the first moves.
Last but not least, we would like to express our happiness of a change that has been going on in the lives of many, which is starting to remember stories of your past lives, that is one of the best ways to learn more about your souls and the reasons why you have given yourselves to this reality.
Love and Blessings,
Ivailo
PleiadianTwinFlames
If you want to book your personalized twin soul reading, please follow the link:
https://www.etsy.com/shop/PleiadianTwinFlames?ref=seller-platform-mcnav.
P.S.: If you want to stay tuned for the readings to come, or want to check out the previous ones, please like our FB Page: https://www.facebook.com/pleiadiantwinflames/.

This work is licensed under a Attribution-NonCommercial-NoDerivs 3.0 Unported (CC BY-NC-ND 3.0). You're allowed to share this article for non-commercial purposes, but you must not edit or modify the contents. You must include all links and images, as well as provide appropriate credit — which includes a link leading directly back to this article at the top of your re-post. You must also include this licence information.