When I was a child, we had a tree house in the big pecan tree in the backyard. We could hang out for hours – watching birds and animals from our perch, make up explorer games, and read. We were quite capable of entertaining ourselves. Since those days, I've not lived where there was a tree that would lend itself to a human hangout.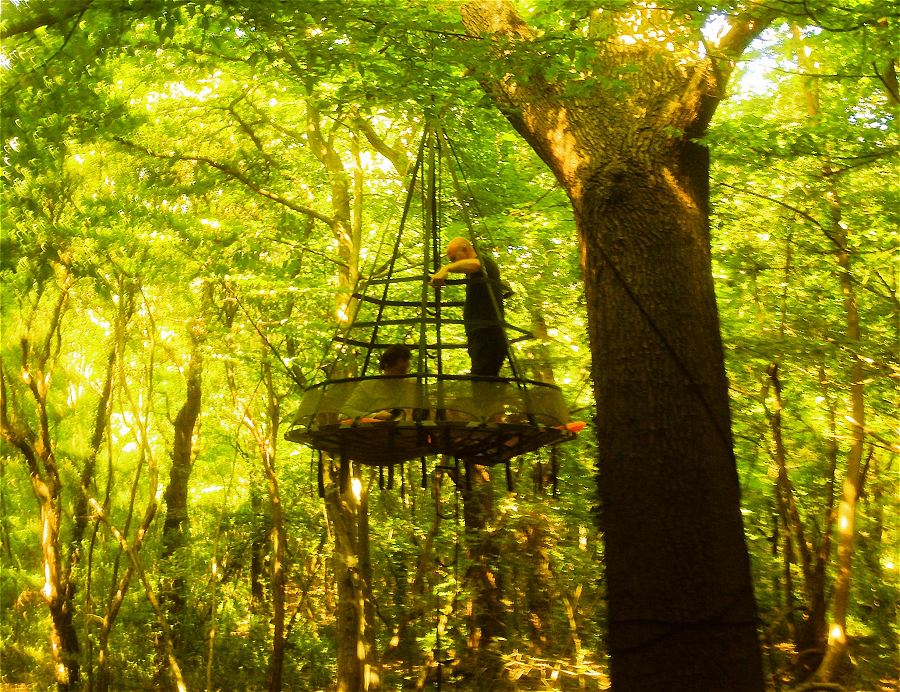 Sky-Pod (not our Pod flying) is a fairly simple design that hangs from a single tree branch. Extras include camo cloth, mosquito netting, and a rain fly. This looks like fun. It would be interesting to spend days and nights just watching the comings and goings of all the birds and animals. It is a bit pricey at over a $1,000 USD.
Whilst Sky-Pod may be seen predominantly as a product for sleeping in, it is also a fantastic space to spend time just relaxing during the day. I have spent many long days with the team in the local forests testing our prototypes and to take a break I would sit or lie in the Sky-Pod and chill out for a while.
The peace and tranquillity, the sights, sounds and smells experienced were just wonderful and I always found I was reluctant to get back out to continue with my work. When I left the forest and returned to the hectic life outside I would always be straining at the leash to return and just "be" in the forest. Unbeknown to me, it seems that along with the benefits I was conscious of whilst Sky-Podding there were other therapeutic processes taking place. 
During this R&D period another member of the team came across Forest Bathing (or Shinrin-Yoku) through research they were doing. This in turn led to further investigation revealing the science behind the amazing experiences I was getting from our days in the forest. What I had been doing was in fact Forest Bathing, or perhaps more accurately Forest Floating.
https://sky-pod.co.uk/blogs/news