Have you ever had a dream in which you felt like you were the same person as you are in waking life, but with a different personality? Perhaps darker? Perhaps lighter? More carefree? Just different, yet you, somehow?
The world of the subconscious says much about all the roads we have taken over lifetimes. At the core, there is always something that connects all those experiences and aspects of the soul.
Sometimes when people realize they want to start a new path, incorporating certain spiritual notions in their path, they might ask themselves many questions. "Who am I as a soul? What has my journey brought to me so far? Was I something bigger than my current self at some other point in time? Where am I heading to? Why do I feel so uneasy, like I do not fit into the standards of society? Was another place in my journey more significant to me than the current place where I stand?"
Too many questions to ask in such little time and too much confusion. As the Schuman resonance of Earth increases, such inner confusion increases but also a certain clarity about our path. Clarity comes from knowing that we are more than human beings: vast souls that incorporate consciously or subconsciously many aspects. Then, as this process enfolds, we incorporate our experiences and soul mass into our daily lives.
At some point, we think that the whole world is wrong, that we are different from the rest of the people, that we are misunderstood, and that only because others speak about labels, species, realms, other worlds, missions, dark cabals, that then those people understand us.
In my journey, I realized that none of these things were really part of what I was looking for. It was like a maze of scattered pieces that apparently built something greater within the souls of each individual who felt alienated. There was much more than bringing forth apparently unrelated and different aspects coming from a bunch of scattered timelines. There was a set of experiences in my current life that brought forth many aspects of my soul to my consciousness.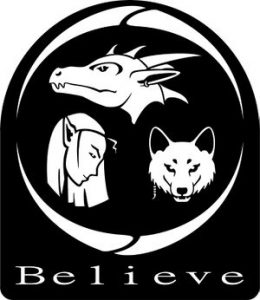 You are a precious human being with capacities and talents that are not always valued enough. Since we are born, we grow up in environments in which our relatives and other acquaintances teach us about conditions. Conditions that are placed in our psyche, and conditions that then we learn to place within ourselves. Conditions on how we think that we should be, and what kind of society we wish we could build and ultimately conditions on how we should relate to others.
If the core of our discomforts is not understood, then we see the turmoil increasing around us, in our lives, and ultimately within us.
Timelines collapse in the now moment, and with our illusions we accelerate time. It is not time what accelerates but it is our rhythm, our inner imbalances and our daily routines what feeds such illusion. Collectively we are accelerating the notion of time because we try to function in a world that is vibrating at a higher rate, but our modus operandi is dysfunctional.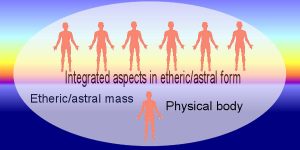 As the inner polarization increases, then the polarization of the soul in all timelines become evident, and other broken aspects of our soul come forth faster to demand our attention, and a space in our etheric vessel.
We might perceive these aspects of our soul as a source of positive guidance, of more wholeness when in our current incarnation, we are not capable of conciliating our painful experiences. Other times we might perceive these aspects as being of demonic threat to our existence. Then we think that we are being deceived.
In the end, no matter how these aspects come to us for integration and healing, they are part of ourselves as a whole and some are parts of other people that in the past we interacted with. You might reject your current experiences and say to yourself that you want to become that aspect which now merges in your consciousness and energetic field. You might say that the home of such aspect was your real home. You might even want to physically look like how such aspect looked like when that aspect lived in a physical construct, perhaps eons ago.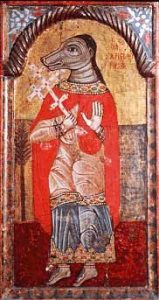 Such is then the current reality lived by thousands of people who became aware of the non-physical presence of aspects of their own soul and of the soul of others. An attempt to explain the world of starseeds, lightworkers, otherkin, therian and spiritually evolved people was described in thousands of sites, books, conferences. However, many of these sources still hold a polarized vision of existence as consequence of the inner polarization of the ones who teach and bring knowledge.
In the best cases, the importance of the material world is addressed and the incorporation of the spiritual nature of the soul is then merged with the material experiences.
It is through the best tools of healing, meditation, psychotherapy, inner guidance, contemplation, that such balance can be achieved and timelines can be closed down for good.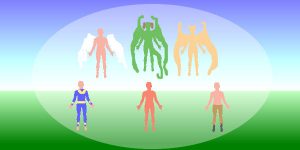 One day you might recover a certain memory of a time in which you existed in a place, far away and too different from your current homeland, in a flesh suit too different from what you have known so far. Maybe there is no memory yet to retrieve, but with your extrasensory perception you sense in your etheric or non-physical mass aspects that feel different to the human being you are. The more your extrasensory perception is developed, the more you can see and feel yourself as a different aspect or aspects compared to your physical human self.
On top of that, in increasing numbers, more and more young people claim to be of a different gender in contrast with their biological gender with which they were born, and the polarity that their physical bodies express.
The shadow side of awakening to the soul potential
We live in a society were distractions abound, and most people are not really prepared to guide the younger generations in their awakening to the collapse of their soul in the now moment into multiple aspects coming in for descension. Unlike the concept of ascension handled in new age spiritual literature, the goal of such aspects coming for integration and healing is to achieve soul wholeness through their descension from multiple non-physical planes. If such process is handled properly by the individual, then the entire consciousness can ascend to higher levels without leaving the physical body.
Unfortunately at this time, soul integration is too overwhelming, after the individual has experienced a set of traumatic experiences in their current incarnation since childhood. Then the individual is unable to bring balance and healing to these incoming aspects as the timelines collapse. The incoming aspects are traumatized to a degree, some more than others.
The end result is a collective confusion of personal identity, unable to cope with the daily difficulties in the physical reality. The walk-in phenomenon becomes prominent in those whose current human consciousness is replaced by the consciousness of other aspects.
In the worst cases, the fractured consciousness of the young or older human individual is replaced by a new personality, that is part of an aspect or aspects coming from different lapses existing in time/space (non-physical). When there is little spiritual awareness of why this phenomenon happens, examples like the ones presented in the following article become more evident in our current global society:
https://www.vice.com/sv/article/from-dragons-to-foxes-the-otherkin-community-believes-you-can-be-whatever-you-want-to-be
On top of that, people who suffer all sorts of conditions that range from OCD, bipolar disorder, and many others, do not receive the proper guidance they need to navigate their healing process and instead come across a hostile world online of people who try to share their common experiences. In their failed attempts they create further lack of trust and deeper wounding. Such difficulties accentuate the incoming aspects that need healing and balance and the confusion of identity.
An individual can lose himself or herself completely to other aspects, with other personalities, with other etherical appearances. True inner balance is not achieved. In the search for an incomplete form of spirituality, which distracts them from learning how to incorporate past lessons from their current incarnation, they seek outside of their inner radar and gut. Then you have wonderful unrealistic stories of what is to come, of who will come, of what will come knocking on their doors. Others tell them they are threatened by dark forces that come to deceive them, without a proper understanding on why these forces present themselves.
Conspiracy theories have brought much understanding of the global problems that we face, but a true spiritual teacher does not instill fear and disempower groups of individuals who seek inner freedom, balance, and the true knowledge of manifestation and empowerment in one's life.
On top of that, media offers materials such as cartoons, comics and other entertainment sources that are mixed up with the knowledge and discovery of such etheric aspects. These sources of entertainment are particularly harmful for the confused younger generations. The younger confused ones are special targets for these industries.
The importance of inner child work and shadow work
The only way in which the problem of timelines collapsing within the soul can be solved is through proper healing and harmonious growth in life. Without healing, this collapse brings disharmony and confusion. It is necessary to avoid distraction that can misguide us further from grounding and living a dignified life as much as possible and start a deep healing process on a regular basis.
A constant practice like meditation for healing purposes, conscious soul retrieval, hypnosis, professional psychotheraphy in physical or with the help of more evolved aspects or spiritual guides, and other forms of conscious healing can bring balance to all aspects of the soul.
All aspects share in common certain wounds. Most often these wounds involve abandonment, rejection, loneliness and social fears stemming from severe traumas experienced during childhood and other early stages in life. It does not matter in which way they present themselves. The wounds are hidden, but can be brought to the surface. Then, harmonious achievement of unity consciousness of the soul or soul group consciousness is achieved while the currently incarnated aspect closes the gap of unlearned lessons from other lifetimes and permanent healing to ancient wounds.
A lack of a solid love basis within a family can bring tremendous problems throughout life. Such wounds bring forth mental and emotional instability and recurrent physical diseases. Aspects become active within the psyche and can bring further problems in life.
Within each soul exists the potential to express the most fundamental spiritual qualities of the Divine Feminine and the Divine Masculine, Motherhood and Fatherhood and the true Inner Child. With discipline and proper guidance, such qualities can be developed and expressed and used for the highest good to bring permanent healing to deep scars.
Shadow work involves establishing a deep dialogue with those parts of ourselves that we deny or that we do not understand and see as a threat. We might perceive these aspects as a fierce animal, a shadow person, a dragon, a reptilian, a difficult version of ourselves, a demon, a loving angel, a Pleiadian,  an elf, etc.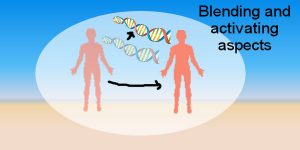 Over time we can regain our mental, emotional and physical balance and health. The parts of our DNA that have been damaged through our traumatic experiences can become activated and we can reach our highest potential.
By understanding over time why these aspects affect our consciousness and we perceive them in visions, nightmares, and other experiences, we are able to heal them and reincorporate them into our current human lives. We become the drivers of our entire energetic system and we establish a friendly connection with each part of our souls. We do not lose in any way these aspects. On the contrary, they become one with us bringing wholeness and a deeper understanding of existence in physical.
If in physical we are unable to find the help that we truly need, then what we are left with is with our own ability to establish such deep inner and honest dialogue and understand the needs of our soul.
As a world collective, we witness more and more polarization and very few people are truly able to understand how the integration and healing process can be properly done to bring closure to ancient timelines. The younger generations suffer greatly, but hopefully many will be able to overcome their internal chaos and identity confusion.
As more people figure their way out of soul fragmentation and collective distraction and chaos, the more the possibility for balance in the areas mentioned in Part 1 of this article will be brought forward in physical.