In increasing numbers, awakened people in our world work consciously with aspects of themselves residing in other realms. The goal of such interaction is to bring about a new personal reality of wholeness and multidimensional awareness.
Part of the challenge of the human collective is to create a new balance that has not been seen before in the Cosmic play of duality. Historically, we have plenty of testimonials from young and elder people who remember or work with aspects of themselves coming from ancient timelines in worlds that exist or existed within and outside of Earth.
As the frequency of Earth and the Cosmos increases, linear time as we know it bends and everything that we have lived for eons converges in the current physical and non-physical reality lived on this planet. For such reason, we hear or read more often that people blend their human consciousness with the consciousness of their past-life aspects. These aspects lived on this same planet in other civilizations or in other planets outside of Earth.
This blending process is something that seems to have happened only partially in ancient civilizations in which some groups of individuals could go through a similar ascension process. Previous ascensions were  limited compared to this humongous event, never experienced before as is now experienced on Earth.
Earth is the planet of Cosmic polarity integration. Humanity as a whole has a lengthy road to travel before full awareness of the multitude of human and non-human aspects of a personal Universe can be acknowledged and understood. It is natural to think that full recovery of ancestral memories cannot happen over night. For most individuals, it might not be in the best interest to recover such memories because of the painful trajectory that was frequently followed in such ancient times. However, people live their destinies through the brilliance of their current soul path on Earth. Through such life path, each individual expresses the gifts of each aspect in refined ways.
Fortunately, there are many people who facilitate the healing and the integration of such ancestral aspects that reside in other non-physical realms. In some ways, they replicate lived experiences from earlier developing civilizations both here on Earth and outside. Additionally, we have the constant inflow of high-vibrational Cosmic energies enable those aspects of our souls still residing in conflicting timelines to come back to us through their integration in our etheric bodies and auric system.
What is still missing in this process is the awareness not only of positive aspects but also of negative aspects of our souls. Such aspects need to be understood, not through the lenses of judgement and fear, but instead through the knowledge of the origins of negativity.
All forms of destructive darkness are mainly born for two reasons. One reason is a natural evolutionary process in the physical realms in which, for eons, a Cosmic diversity of species developed from very primitive, impulsive states to more evolved forms. That evolution involved the physical development of their bodies into more or less complex organisms, as well as their emotional and mental capacities. This process enfolds before a conscious spiritual awareness, even in other realms.
One of the biggest accomplishments in each species is the awareness of inter-connectedness and the ability to understand causes and consequences of lived experiences, and personal responsibility in such lived experiences. After eons, humanity as a whole still needs to further develop this quality, as to understand in depth their power to fully adopt the capacity to exert an empowered free will outside of the cycles of suffering.
The other reason for such darkness to exist is the suffering in itself caused by such natural evolutionary process from survival to empowerment and harmony. Painful experiences lead to disconnection and unconsciousness of one's actions. A being who exerts their will to inflict any form of suffering upon another has their motivations deep rooted in their own suffering. The unconsciousness of ancestors disabling them from the capacity to live an existence based on kindness, empathy, selflessness, and ultimately love has been replicated for too long. Yet the game of blame keeps us stuck even further in such cycle. Within the cycles, our breathe of loving remembrance comes from the temporary station of the higher realms, where we get to celebrate another accomplishment of sorts within the greater scheme of Cosmic evolution.
If we can understand the many angles of suffering, and embrace that child in each being that represents the purest essence of the soul, then we can open our hearts widely. We can bring forth to our existence aspects that might just observe us, and who are in need of our love and understanding. They might come in the most unexpected forms.
We can continue blaming each other for our own mistakes and our mutual unawareness, or we can reach a higher path. A path higher than what you have been told so far, in which you embrace yourself fully in all timelines, in all realms, even those you do not want to become aware of.
In the end, our soul is our soul, our aspects belong to us, and to no one else. We can embrace all parts of our existence with an open heart like how a lover waits for their beloved or how a mother or father embraces their loving child.
Only then could we know what true forgiveness is, and what unconditional acceptance means.
Theory about the multidimensional nature of aspects
Your soul as a personal Universe of aspects can be divided into aspects and subaspects in each incarnation.
In a more formal definition, an aspect is a complete individual personality or set of physical, emotional, mental and spiritual attributes that make up an incarnation.
A subaspect is a set of physical, emotional, mental and spiritual attributes that make up a specific stage in the development of an aspect during an incarnation. In this case take as an example a stage in your life like childhood or teenager or young adult.
During a lifetime, our personality and physical configuration changes in accordance to our lived experiences. The personality is made up of ideas, beliefs and experiences and metaphysically a defined set of frequencies or energy signature.
The soul vibration or energy signature is shared by all aspects in all incarnations within a spectrum of frequencies. The frequencies change during the different stages of each lifetime ranging from very light to very dark.
The definitions of light and dark provided in this article are acknowledged to be limited and paradoxical, as all notions of duality converge in wholeness, thus shedding off the illusion of such apparent differences. Concepts and archetypes defined as light or dark vary from individual perception and from traditions culturally, socially, economically and historically born outside of Earth and within the experiences characteristically of Earth.
Take a look at the following diagram: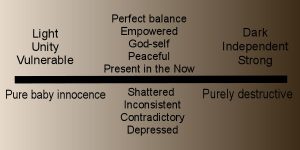 Within the spectrum of your soul vibration, each incarnation experiences some shifts that can range from an extremely light consciousness of pure baby innocence to the extreme cases of purely destructive consciousness in the extremely dark negative consciousness.
A being cannot remain purely in the state of baby innocence and cannot remain either in a purely destructive consciousness because in either cases the consequence would be death. Only through our experiences we can reach balance and polarity integration throughout a lifetime.
In the above diagram, you can also see two specific examples of positive applications of both light and dark consciousness within the spectrum. These examples are provided in accordance to the limited dualistic definitions of light and dark explained in this article. Take within the spectrum a positive light-oriented consciousness. You seek unity within the collective, to serve to the collective whole, to empathize and blend to a degree your consciousness with the collective. You have a more vulnerable intuitive temper, sometimes childish but in a light-hearted positive way.
In contrast, on a specific point of the scale that could be perceived as opposite, is a more independent, loner temperament whose goals are oriented towards building personal strength and discipline. Boundaries are clearly established, there is less focus on collective goals and service, but the development of personal talents and qualities in an individual set are cultivated. In such sense, such frequency and goals are not necessarily perceived as negative or harmful.
On the other hand, from the harmful sides of experience, whether the harm is self-inflicted or inflicted upon others, an imbalanced state of lighter consciousness would be the typical easily victimized naïve personality that does not know how to set healthy boundaries. This personality feels disempowered by circumstances and sees the other darker extreme as a threat. There is little discernment and the collective mindset easily influences the individual decisions and thought patterns.
The darker negative extreme is the personality that is destructive and, rather than being hurt, decides to hurt others by pure impulsive thought forms and actions. The once innocent state of consciousness has been victimized in such extreme forms as to live in a purely survival state of consciousness that determines its path on the desire to destroy. Such sides are all born from suffering.
When a being experiences severe traumas during the course of their physical incarnation an accumulated amount of shattered energy affects the consciousness of the individual. Consequently, the developing subaspects fluctuate between the initial state of baby innocence and much darker destructive levels of consciousness. Suffering has turned into rage and the desire to hurt oneself or others in either subtle ways or in more explicit ways through attitudes and actions.
Over time, the individual develops a personality which includes a set of attitudes, beliefs and ideas that seem to contradict each other. This is what psychologists label as a range of disorders such as bipolarity and many others. If the individual does not seek consciously to balance and conciliate the lived experiences, then a chaotic state is born within the psyche as shown above in the middle, below the line where imbalance exists and contradiction arises.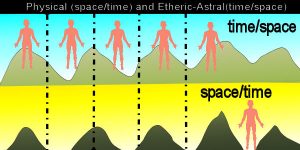 To make things more complicated, we develop over lifetimes aspects, that after dying, reside in the etheric/astral realms. The aspects in these realms carry in their etheric template the record of lived experiences in physical and who continue to inhabit a non-physical reality that is either of positive nature or of negative nature.
These physical and non-physical realities are often known as timelines. Timelines are perceived differently in non-physical realms in contrast to the physical realm. In the latter,  reality is perceived as linear when the frequency of such reality is constant and low compared to the higher frequency at which a physical reality vibrates during an ascension process. During integration, perception of time becomes distorted and less linear.
The perception of linearity is like a continuum that stretches itself indefinitely, where as in non-physical realms, timelines are usually experienced as fractured realities that collapse simultaneously in the Now moment or in spirals. Think about OBEs, dreams and astral projection, in which you can shape-shift and travel fast between these timelines, giving the impression that the scenes are constantly changing and you displace yourself with ease.
There is a feedback between the physical and non-physical. Physical influences the non-physical and vice versa, creating karmic cycles. Decisions and actions that are taken in physical affect the non-physical and what takes place in non-physical affects the physical.
Our previously incarnated aspects in a physical reality affect our current physical reality in different ways. If such aspects lived similar experiences to our own experiences then the impact is felt more prominently. Otherwise, some aspects might remain disconnected from each other in diverse timelines or realms.
Based on the experiences of these aspects that still exist in non-physical realities and who impact our consciousness as currently incarnated aspects, such aspects can be classified within a spectrum of light and darkness. The classification is set according to the ways in which personally and/or collectively we define such two terms, in the dualistic set.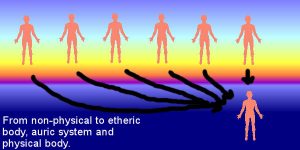 There is a certain special mobility between dimensions and densities in lower and higher realms. For such reason, if we had previous incarnations as service to self oriented individuals whose actions where mostly negative, after death, at least part of this aspect can ascend to a higher comfortable realm where the soul experiences peace and joy. The scars remain etherically imprinted in the soul, and as such, can be triggered if the soul was to travel to lower realms and ultimately through reincarnation and integration. Hence, mental, emotional and physical ascension symptoms.
If it is decided that the previously service to self oriented soul remains in higher realms, then this aspect can serve as a positive guide for the next incarnated aspect. Another option involves a partial or complete integration or merging with the currently incarnated aspect.
In the next part of this long essay, the balancing process between aspects is described and the concepts of individual integration of aspects are linked to the collective process of planetary healing, balancing and ascension.