Do you ever wonder how much rare and used books are sold for? I ran into a list from AbeBooks based on their records from last year which provides the top twenty most expensive books sold through their website.
I am a book lover and while I time have as much time as I used to for reading, I still have collected a lot of books, some which I am yet to read.
Previous to 2015, the two most expensive books ever sold at Abe were a 1937 first edition of The Hobbit and a 1644 copy of Areopagitica, John Milton's defense of press freedom, which sold for $65,000 each in 2003.
1. Storia naturale degli uccelli trattata con metodo e adornata di figure intagliate in rame e miniate al naturale. Ornithologia methodice digesta atque iconibus aeneis ad vivum illuminatis
by Saverio Manetti – $191,000
The book's title translates as a 'Natural History of Birds Treated Systematically and Adorned with Copperplate Engraving Illustrations, in Miniature and Life-Size.' Published in Florence in five volumes in 1765, it contains 600 beautiful hand-colored engraved plates of birds. Commissioned by Maria Luisa, the Grand Duchess of Tuscany, it took 10 years to complete. This copy's fine condition enhanced its value along with the fact that it is a scarce book – only 10 complete copies have been offered at auction in the past 40 years.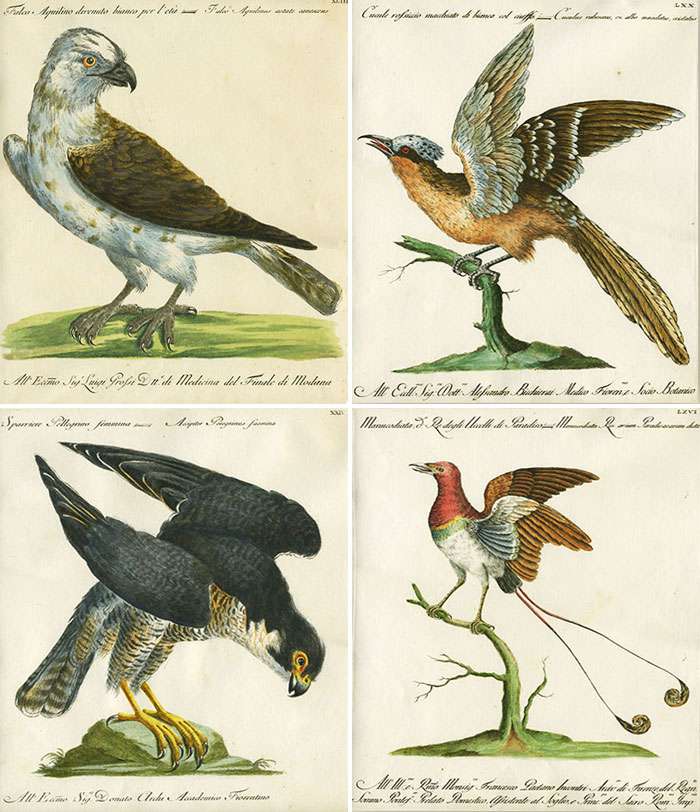 2. Pangeometria
by Nikolai Ivanovich Lobachevskii – $34,245
Published in 1856 in Russian, this is an important book in the development of geometry.
3. Charlie and the Chocolate Factory
by Roald Dahl – $25,000
A first edition from 1964 that had been signed and inscribed by the author with the words "For Jane and Alex with much love Roald Dahl October 1964." The bookseller was Raptis Rare Books located in Brattleboro, Vermont. Published in September 1964 by Knopf, just 10,000 copies of Charlie and the Chocolate Factory were published and they sold out within a few weeks. This copy is by far the most expensive Roald Dahl book to sell via AbeBooks and probably the most expensive Dahl book to ever be sold.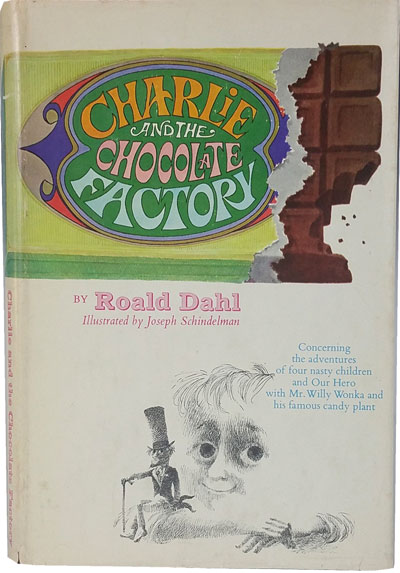 4. Sertum Orchidaceum: A Wreath of the Most Beautiful Orchidaceous Flowers
by John Lindley – $24,643
A first edition of one of the rarest and most attractive of all orchid books. It contains 49 hand-colored lithographed plates. Lindley (1799-1865) was a botanist, horticulturalist, and pioneering orchidologist.
5. Plantes de la France
by Jaume Saint-Hilaire – $22,549
One of the great botanical works. A first edition in 10 volumes that was published (at Saint-Hilaire's own expense) in 94 installments and delivered to readers via subscription between 1819 and 1822. A thousand illustrations engraved on copper and printed in color.
6. The Grounde of Artes
by Robert Record – $22,083
Dedicated to explaining arithmetic, this is one of the first commercial textbooks. First published in 1543, this edition of Grounde of Artes was printed in 1579. Just like modern textbooks, it was edited again and again, and there had been at least 45 new editions by 1699. This edition contains the edits of John Dee.
7. Scenes of Clerical Life
by George Eliot – $20,000
Published in two volumes, one of only 1,050 copies of the first edition printed in January 1858. Scenes of Clerical Life was Eliot's brilliant debut work of fiction. This is one of eight presentation copies gifted by the author upon publication – the recipients included Dickens (who guessed Eliot was female), Ruskin and Tennyson.
8. Lord of the Rings trilogy
by J.R.R. Tolkien – $19,492
Three volumes comprising The Fellowship of the Ring (signed by the author), The Two Towers, and The Return of the King, published in 1954, 1954, and 1955 respectively. All first editions.
9. The Holy Bible
$18,928
Published by Mark Baskett in London in 1767, bound in two volumes in late 18th century red morocco. Mark Baskett was grandson of John Baskett (who died in 1742) who had acquired the patent for the office of king's printer which covered the printing of bibles.
10. The Astronauts: The Story of Project Mercury, America's Man-in-Space Program
by Martin Caidin – $18,500
Project Mercury was America's first mission to put men into space. First edition published in 1960 and signed by all seven of the project's astronauts – Scott Carpenter, Leroy Cooper, Alan Shepard, Deke Slayton, John Glenn, Wally Schirra, and Gus Grissom. The project ran from 1958 and culminated in 1962 when Glenn made three orbits of the Earth.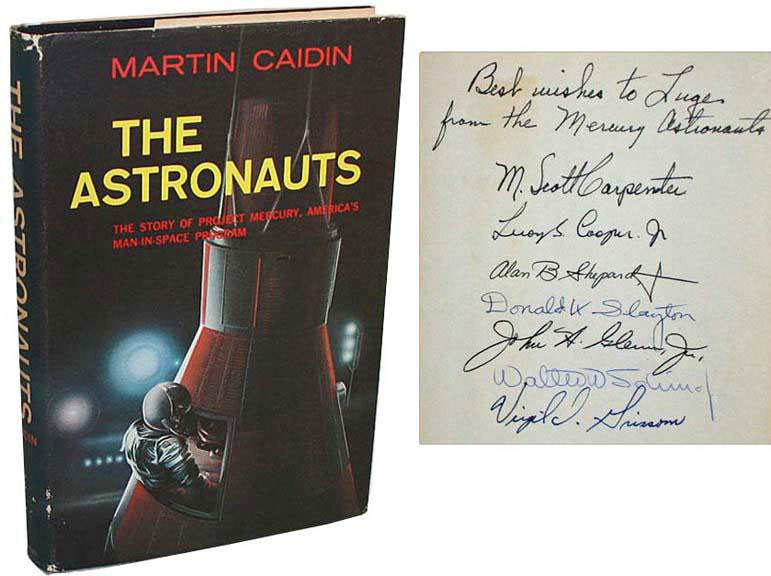 11. Principes Mathematiques de la Philosophie Naturelle
$18,000
Two volumes. A first edition from 1759 of the only French translation of Isaac Newton's Philosophiæ Naturalis Principia Mathematica by the Marquise du Chatelet, the paramour of Voltaire. Newton's seminal text on mechanics was published in 1687.
12. De Mundi Systemate Liber
by Isaac Newton – $16,629
Published in 1728, this is book 3 in Newton's Philosophiæ Naturalis Principia Mathematica containing a portrait of Newton by John Simon.
13. Lexicon Iconographicum Mythologiae Classicae
$15,062
Published in 20 volumes in the 1980s, 'LIMC' is an encyclopedia cataloguing representations of mythology in the plastic arts (that's sculpture and ceramics) of classical antiquity.
14. Samuel Pepys' Diary
$15,000
Published in 1899 by London's CB Hall, this is one of only 53 sets, printed for private subscription. Pepys kept his diary 1660 until 1669 but it wasn't published until the 19th century when it became one of the key sources of information on the English Restoration period.
14. Do Androids Dream of Electric Sheep?
by Philip K. Dick – $15,000
1968 first edition signed and inscribed by Dick. The book served as the basis for the Blade Runner movie. The plot is set in a post-apocalyptic world where a bounty hunter is tasked with destroying six escaped androids.
16. The Holy Bible
$13,547
Published in 1613 by Robert Barker.
17. Sumo
by Helmut Newton – $12,833
Newton's aptly named photography book was published in 1999. It weighs more than 77 pounds (35 kilos), is 19.7 inches x 27.6 inches in size and comes with its own folding metal stand. Published by Taschen, the book offers 450 photographs in color and black-and-white of scantily-clad fashion models. The copy purchased was one of the 10,000 signed and numbered copies that sold out immediately after publication and have since increased in value on the rare book market.
18. Primera Parte del Ingenioso Hidalgo Don Quixote de la Mancha
by Cervantes – $12,749
Part one of Cervantes' famous tale, published in 1617 in Brussels by Huberto Antonio.
19. As I Lay Dying
by William Faulkner – $12,500
A first edition from 1930 with a laid-in signature. Complete with its dust jacket. Faulkner's fifth novel, a stream of consciousness, written during the night while he worked at a power plant.
20. Comedies and Tragedies
by Francis Beaumont & John Fletcher – $12,043
Published in 1647, this is one of the great collections of Elizabethan drama from the playwriting team of Beaumont and Fletcher. It contains more than 30 plays.
You can find a few more high priced books that Abe has sold near the middle of this article of theirs here.