Taking the route less traveled embodies a meaning hidden far from the eyes of those in the world. It means more than merely choosing a path contrary to the majority of those around you. It means more than choosing peace over violence. This concept of choosing a path less traveled is beautifully expressed in the Major Arcana card, 'The High Priestess.'
In this tarot card a women is situated between two symbols of time, one past, one future. One, often colored black and the other, white, like the yin and yang in Chinese Philosophy.
She usually wears a long loose flowing gown and her hair drops down over the fabric. Her backdrop depicts lush natural fertile creations, like fruits or flowers. She holds the sacred Torah (the five books of the Old Testament) and a cross, often as a necklace around her neck. She is a melting pot of wisdom from all worldly religions, favoring none but representing them all.
This card tells you of a gut intuition that lies within you. A wisdom, a knowing that should you choose this path, the one less traveled, the one more remote… it means you will choose to sit back… let go… in essence, defy gravity.
It is therefore, a path not only far from the maddening crowd but one far from one's own maddening ego.
The High Priestess knows the road less traveled is your intuition, a deep knowing — one need not go out and fight for.
No fight is required to obtain that job, to pay that bill to buy that home. She knows the Universe is shifting all the time and she can remain passive within it and trust she will get there. She knows she will see results far different to what she had planned or even hoped for.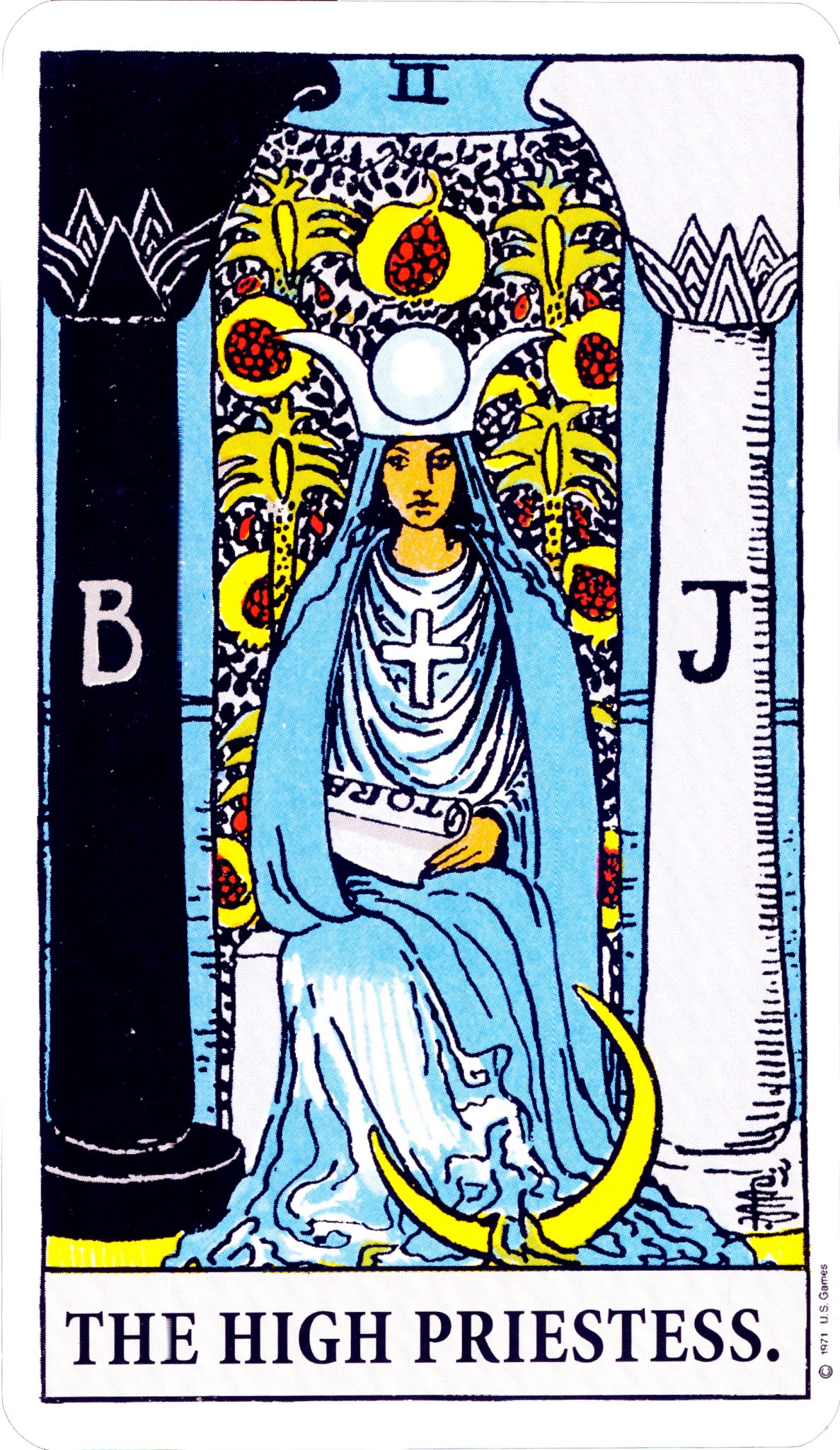 Sometimes we wish to help others so much, we feel a guilt, a strong desire to be that person's savior; not for ourselves but to help them through their pain.
It's called empathy, and we house this within because we care. All of these sentiments are beautiful, magical even, but there is one option much higher than them all… a path less traveled.
It's called unconditional love.
This is the path that will shift the Earth beneath someone's feet. This is the Universe's intuition… and it is ours. Its message is to wait to respond rather than provoking a response. To know beginnings flow into endings simultaneously. It's being calm and not knowing how to act but sure your interference is not needed for things to materialize.
Sitting between two pillars, one past and one future, the High Priestess knows change will occur, with or without her input.
This reminds me of a QHHT regression I read recently, where one person was meant to meet another in this lifetime. However, it took eleven attempts for this to actually materialize on this Earth. Eleven times, but occur it would, and did.
The picture or tapestry behind the High Priestess represents the fertile imagination, unrestrained by logical thought. Eleven probabilities… all defying logical thought.
Why waste our thoughts then, if we really know?
Why then not go on what we feel we know, rather than on what we think we know…
Defying gravity is personal.