Healing Facilitator & Consciousness Guide
Staff member
Administrator
Board Moderator
Creator of transients.info & The Roundtable
Last week we focused on balancing and aligning our energy body.
ArtemisLuna
provided some great feedback after the session. She came in with the following request.
I often have a sharp pain near my left chest/heart area and also a sharp pain in my stomach everytime I wake up. I'm unsure what the causes are but would appreciate any lovely healing sent my way.
This is what she said afterwards.
I woke up the next morning after the healing without stomach and chest pains. Just to be sure I waited until this morning to see if it came back and it didn't!
And that is similar feedback to a lot of personal requests we have had over the years this group has been running. The healing we do can help stop illness forming, as well as provide us with some emotional and mental stability, but it's also very effective with treating existing conditions — it's always helpful to get reminders about all of this.
There's an energy healing technique I use on occasion where I directly work with the sushumna, which is the central energy channel of our body.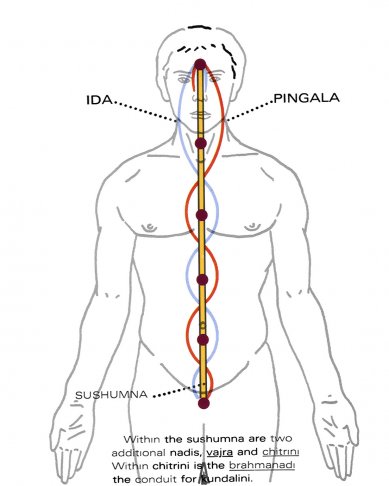 ​
With the image above you can see where it runs, but also that there are two intersecting channels of eneryg, the Ida and the Pingala. I think of the sushumna as not only an important part of the workings of the kundalini, but a foundation for the chakras and other energy centers of the body.
It's important it's running in a healthy state, especially for any kundalini awakenings.
For this weeks session, in addition to healing each other, let's use this technique below to work with the sushumna.
After connecting in with the group, visualise us all standing or sitting in a circle — any location you prefer, which could be just black space — and then put the intention in that you are going to focus on the sushumna of each individual, but through the one form. In the center of our group, visaulize the form of a human body laying down, or standing up, and the single sushumna, such as pictured above, going through that body. That is going to represent the sushumna of all participants.
Once you have all that in mind, (the sushumna can be thought of as a line of bluish or white light, if you need a color) visualize your spirit hands, or simply your hands, cover one end of the sushumna and tightening it while sending indigo colored healing energy into it.
If you are familiar with a Chinese burn, perhaps you did that s a child on a sibling or friend for fun, that is a a similar way to how you are tightening the sushumna. So start at one end and slowly work your way along sending that energy in.
So what is the intention of the healing energy? You can strengthen the sushumna, balance and align the sushumna, but another easier intention is to just say you are restoring the sushumna to it's natural state and the state the individual needs at the time which will best serve them.
I will sense you there...
The usual introduction is below for our healing sessions
For those new to these sessions, or if you simply want to me reminded on how to connect in and what methods you could use to send healing, see this article
here
on transients.info.
The purpose of these 20 minute weekly sessions is to send healing to each participant, which can be accomplished by focusing on individuals or the group, deepening on what methods you chose to use. You are always free to set secondary intentions around focusing on world events that may need some helping energy — on other levels our group also works in a multi-dimensional sense. Sometimes we get healing requests within the replies here, so do check back here just before the sessions begins.
Let us know if you are joining by responding here or contacting me from the
Contact Us
form on transients.info. The session is only 20 minutes and you can send, and or receive healing; it is up to you. Anyone can heal, no training is required to participate.
Please provide any feedback on here if you receive any and feel comfortable sharing.
You can find further information about these sessions through the link,
Weekend Healing
, on transients.info, which also includes links to a few
Current Timing
The time for the session is the same each week, based around Laron's time to make things easier, which is 2 PM on a Saturday in Virginia, USA (PDT). All the other times reflect this time, but this time is worked out to accommodate the greater number of people based on their geographical location.
USA:
Saturday: 2 pm EDT, 12 pm MDT, 1 pm CDT, 11 am PDT
Europe:
France (Paris), Switzerland, Sweden, Saturday: 8 pm
UK:
England (London), Ireland (Dublin), Saturday: 7 pm
Russia:
(Moscow), Saturday: 9 pm
South Africa:
(Johannesburg), Saturday: 8 pm
Australia:
(Sydney, AEST) Sunday: 4 am, (Perth) Sunday, 2 am
New Zealand:
(Auckland) Sunday: 6 am
To understand about joining outside of the set time, which you are free to do so and the hosts do this sometimes because of other commitments, just check out the instructions on how to send healing
here
, which I linked to above as well.