This should have been posted yesterday, but didn't have time then...
Woke up in the morning to brilliant sunshine. Then noticed a cloud. It was dark, but wasn't
dark
. It looked like a 'bright dark'... some things just don't translate well into words. Anyway, over the course of the day the clouds multiplied and did darken the sunshine that had been pouring through, plus the temperature dropped a lot. Still, the quality of the grey clouds was a certain bright quality that felt really positive and looked different from what we usually call 'grey'.
I couldn't place it for a long time. Eventually, I realized what it was. It was rainbow weather.
We once lived in a place where at a certain time of evening, for some reason, it was often possible to see a rainbow. I was often out that time of evening for that reason and I got to know that particular colour of grey that is almost shimmering with the colours of the rainbow... and then, when that quality appeared, the rainbow would follow. Sometimes it was a full bow, others times partial. Sometimes it would last. Other times it faded quick. Still others it doubled or even tripled in places. But that colour of grey was 'pregnant with the possibility of colour'.
They say white is the colour you get when you mix all the colours of a rainbow. And, if you have a rainbow-maker that you can put on your window on a bright day you can show this. There will be a linear or round rainbow (depending on the shape of your crystal) and, in some of them, you'll get a bright white center.
But it also seems to be true that there is a sort of translucent or 'bright' grey colour that gives rise to rainbows... or is a step away from becoming a rainbow.
Anyone else every seen anything like this?
The colour I refer to is much like the 'bright grey' between the rainbow bands in this pic. I find it a joyful colour: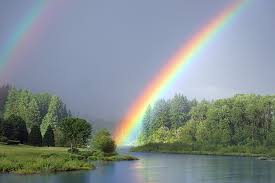 The white from a mix of all the colours is visible in this pic though it's placement seems a little distorted from where I usually see it: