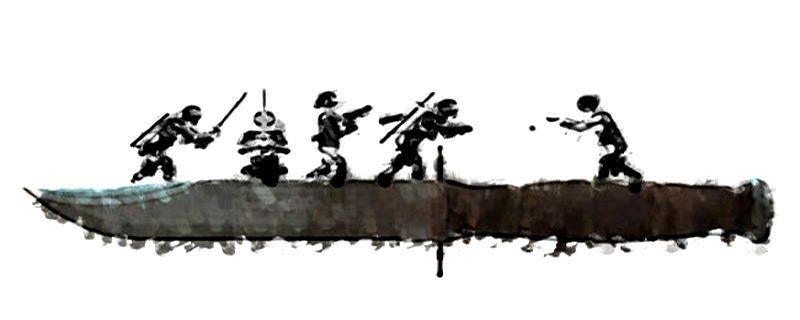 Confusion is always a bad ally of growth, of consciousness and understanding, but it is necessary to continuously give information as we have explained in the last article, at the risk of causing something in it, in order to open gaps in the egoic personality and break some filters in the programming so that we can understand the "real" situation in which we are at the planetary macro level. If that is not the case, and if we do not end up closing gaps and explaining why things are as they are, and what is the reason for everything that happens to us as a species, we could never consider what to do to change it, nor if we can really do it.
It has been a huge shock of consciousness, perceived in the collective unconscious, to realize suddenly that in line 42 there are only a few tens of millions of people, and that these few million are going to have to manage an entire planet inside of a few decades. This fact is not an invention or a supposition, as I said before, but it is a decision of Kumar (the planetary consciousness), the races and groups that assist us, and the non-physical hierarchies that attend the same planet from the highest levels of its structure, so that the evolutionary base in which "we travel" follow its course correctly.
Therefore, for all those who are in time line 42, the work you have — we have — ahead is enormous but at the same time very rewarding, a new beginning, a new dawn for Humanity and the expected leap of consciousness, which has been delayed so much that many have lost hope — that it really would happen.
It will happen, and everything is on its way to arrive. For us, a few decades may seem like an eternity, but you will see that in these years pleasant surprises await us as line 42 raises more and more its vibration and we approach higher levels of reality. Everything will be much easier in a medium-term period of time.
Then there is the other side of the coin, line 33. In a certain sense it represents what could not be fixed, because it contains the manipulative base of the human being from its deepest foundations. Line 33 in its mental and etheric structures is so imprisoned, controlled and blocked by the system under which we lived that it would take a team of trillions of bulldozers to dismantle it.
The main problem of line 33 is that millions of people do not want to, literally and consciously, "wake up", they do not want to realize the "real" reality, make changes and take charge of their lives. They do not want to have the responsibility of creating the world in which they live.
That makes it very difficult for anyone to assist line 33 in the magnitude that is required, because you have to "want" to change individually to send a signal to the ones "out there" that we accept their help.
Each person who has done it has begun to move to 42, so in general, on line 33, which contains the majority of humanity, the collective unconscious that unites them is the one that decides what can be done and that cannot be done with the events in it. When we have been able to dismantle something like what was done a few weeks ago and that we explained in another article, it was because there was a "fear" so high that something big would happen that many people began to ask for a solution.
When everything calmed down, many people thought "bah, it was not so much" and they returned to their previous levels of consciousness instead of taking advantage of the "step" given forward to take momentum and keep waking up.
In line 42 there are two steps forward and one back, always progressing a little despite the system's obstacles, but on line 33, the collective consciousness advances one step and goes back a step and a half, advances two steps and backs the two steps again.
That is the reason why we cannot ask all our higher selves to continue dismantling warlike scenarios of global confrontation, because it has been seen that we simply remove a piece, we stay calm for two days, then the races in control prepare another new scenario, and as we have not advanced anything in consciousness with the work done, we are back in the same situation again only two days later.
Again, all this is not intuitive or invented, it is the answer and the explanation that the set of higher selves shares with each other in view of the situation and "level" of its terrestrial counterparts, and to which, if you tune in and work with your own higher self you will have total access to it in a conscious way.
Therefore, the problem lies in the little awareness, will and desire of the almost total part of humanity to change things, and again, there is no associated value judgment, this conclusion is not good and it is not bad, simply IS.
The situation IS like this for line 33, and only people on line 33 can change this.
Those who have realized that and who took the reins of their lives and set out to execute the internal changes that they needed to do in order to continue advancing are already in 42, at least with some of their superior subtle bodies, and it is only a matter of time before they finish moving the rest of their structure to this line.
As we said before, just if you have one of your subtle bodies in it, normally the causal one, you already have the ticket for the ship, and your higher self will finish moving the rest of your bodies to that line if you keep making the requests and the work that we have explained throughout the year 2017.
I trust that this serves to clarify things a little more and we will continue talking about the subject in future articles.
A hug,
David Topí
This article has been translated from Spanish to English by Carl, one of transients' community forum menbers, over on the Roundtable. Editorial changes made by Laron. David has given transients.info direct permission to share his articles in this manner. 

This work is licensed under a Attribution-NonCommercial-NoDerivs 3.0 Unported (CC BY-NC-ND 3.0). You're allowed to share this article for non-commercial purposes, but you must not edit or modify the contents. You must include all links and images, as well as provide appropriate credit — which includes a link leading directly back to this article at the top of your re-post. You must also include this licence information.