This generalized tarot reading for Twin Flames is related to the storm of energies that hit so many in the beginning of the week. They caught people off-guard, including me. I had to put the cards I had drawn for this-week's edition aside and ask for a new set. We have an aftermath of what has passed; a reminder to pay attention to the heart connection; and again a promise for better things to come.
Deck: Tarot of the Hidden Realm
Spread: Past-Present-Future Spread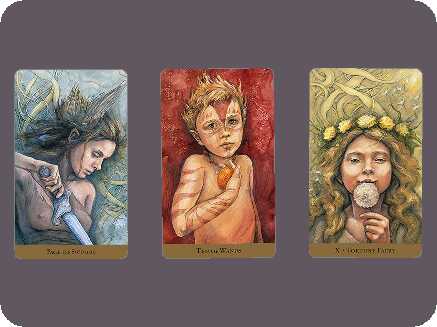 The Past – Page of Swords
The ones who are consciously on the way to reuniting with their divine partner (and whom the reading is about) are prepared to some extent for what is to come and what is needed to be done in order for us to fulfill the plan our souls set for us. And yet, the energies made it appear as if we lacked what was required of us. It was a call to face all of our fears at once and hear what they have to tell us. Some of them may be due to past experiences we fear of being repeated. Others might be related to rational fabrications of the mind. And, last but not least, another subject that came out was the frailty of the machinery we are operating. It seems you can put the bravest souls into the shoes of an empath and it will shiver in fear. There is a call for an upgrade which I am sure is on the way.
Take a look at the page. She is already familiar with the sword and her desire to use it as an extension of her mind is prominent. However, there is insecurity betrayed by her expression, and the blade points at a blank point. In her mind, she is fighting her demons. Will they win? I would say that the likelihood of a temporary domination was there, but we will see the dawn of a new day where they will have no chance in hell.
The Present – Ten of Wands
The Ten of Wands appeared in the last reading too, and now the little boy is eager to tell us more. Many twins are born very far away from each other and that requires one to virtually let go of what they have in the physical world that surrounds them and surrender to the calling of the higher heart. That can be a burden and it would be hard to silence the mind that would speak against indulging into the unknown. If you can't take a decision today that is okay, but don't let go of the heart connection, keep it alive and cherish is.
The Future – The Fortune Fairy
For those familiar with tarot, this is the equivalent of the Wheel of Fortune.
We have another child to remind us of the innocence, which was evident when our souls decided to come here for another set of incarnations, an attempt to bring more sacred love to this world (something that has been rare for such a long time).
It would be wrong, however, to underestimate the appearance of the Fortune Fairy. She may be small but she is Major Arcana! Her promise of dark times passing will be fulfilled and it has to be for us to be able to have the experience we came here for.
Love and Blessings,
Ivailo
PleiadianTwinFlames

This work is licensed under a Attribution-NonCommercial-NoDerivs 3.0 Unported (CC BY-NC-ND 3.0). You're allowed to share this article for non-commercial purposes, but you must not edit or modify the contents. You must include all links and images, as well as provide appropriate credit — which includes a link leading directly back to this article at the top of your re-post. You must also include this licence information.