As 2017 comes to a close, many of us tend to think about the future and what we can get up to with a new year suddenly appearing. I just wanted to mention a few things and cover some details that you, the reader — and visitor — may not be fully aware of.
Unspun
Firstly, Bernie recently announced he is no longer putting out Unspun through his email group, and therefore I stopped helping him extend his reach through transients here within new articles each day. However, he has shifted over to transients' Roundtable Forum, more specifically a thread I created for him to post his links.
He's trialing this idea, as he still wants to share the interesting info he comes across. So right now, the way it works is that once a day Bernie is posting his links on this thread, so the thread doesn't change, but the URL will change over time as more posts get added (replies) to the thread.
On a Forum you have message boards. Each message board usually relates to a category or primary topic. In this case, we have a board titled In The News, with its purpose being for sharing links and information to new articles, stories and news related items coming up online.
I have created a thread called Unspun on that board. Threads are like articles in a way, and then under the first thread are posts or replies, which are a bit like comments. So people respond to the thread, the original post—the first post— and it all gets grouped under the one place.
So, forum, message board, thread, and then posts/replies. (Sometimes it's Forums, but I use the word Forum to depict a collection of message boards, which can also be understood as forums.)
Bernie and I agreed that it's best that only he has permission to reply to this thread, otherwise the thread would become a bit convoluted with replies from others, but also those subscribed to monitoring the thread, whether manually or through email, will want to only get notifications on Unspun related posts by Bernie.
I have suggested other ideas to Bernie about how to do this, such as having a board called Unspun and having a new thread each time he posts, once a day. But he is just seeing how it all goes as he adjusts since his health issues came up.
I have pinned the Unspun thread on the board, In The News, so that it's easy to find and sits at the top of the board. The URL to the message board on transients' community forum, The Roundtable, is here. But the thread URL, the place where Unspun is now only being published by Bernie, is here; as I mentioned previously, this URL will change over time as when more posts are added, a second, third and so on page is automatically generated to display all the posts, just so there isn't an unlimited list of posts on the one screen, within a thread. So page 2 of a thread will have a different URL. You can easily see if there is a page 2, or 3, or so on, at the top and bottom of a thread. If you are monitoring this thread through a bookmark, then just note you will need to click on page 2,3, 4, etc., over time, to find the latest post by Bernie.
Alternatively, and which I consider easier for following threads, is to subscribe by email to the thread. When a new post is made, you can get an automatic email to notify you of that post on a thread. The thing is, to reset the notification so that it keeps informing you, you need to visit the URL (the Unspun thread on the forum in this case) inside that email and view the post. This stops unnecessary emails / spam to your inbox, as you can imagine, on other threads there is reply after reply, yet it's best to only get one email until you visit and see all those replies.
So, to subscribe via email, here are the instructions.
First, if you are not registered on the Forum, then go to https://www.transients.info/roundtable/, read the Welcome Guest notice so you understand some basic things about the Forum,
and then and click on "Sign up now!" to the right side of the screen for desktop users.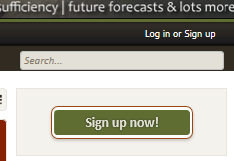 Follow the instructions and register. You can use any name you want, but you can't change your name once you sign up unless you put in a request to me to do that. You can use a handle or your first real name. I don't suggest using a full name. You have the option later to associate your account with Facebook, Twitter or Google, through your account details/profile, so you don't have to enter a password when logging in — just click on one of those you have associated with if you are logged into one of them already.
Now, navigate to the Unspun thread, which is this URL: https://www.transients.info/roundtable/threads/unspun.4120/ and click on Watch Thread. The pop up will let you select watch the thread via email.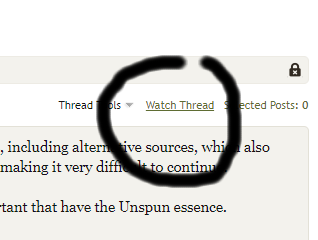 After registering you will also get an email with further information about the Forum, which can be really helpful if you want to join in or read any other posts. Do note the help section in the Menu. Once you click into the help section you will find information for new users which includes a pdf guide and a thread I've created.
Note that this way of reading Unspun may change in the short term or even long term future.
Interesting Roundtable Threads
On a regular basis we have some great threads being posted by members on the Roundtable Forum. If you are registered, you can see all the new posts (threads and replies) on the one screen by clicking on "New Posts" under "Forums" in the menu.

Here is a selection of a few interesting ones.
'Red Pill' time – Clif's Dec 2017 Report – The Soaring 20's
"Clif High released his latest report on 23-December. It outlines expected events over the next three years and then delves more deeply into the crytpo currency space and how it fits with other larger trends. The thrust of which is a world full of change in replacing old systems with new ones. By 2020 we are well into moving into what he calls 'the soaring 20's.' Space based businesses, much improved health systems (supported by new technologies), new electrics, and a growing renaissance as old corrupt powers and institutions are removed and replaced."
https://www.transients.info/roundtable/threads/red-pill-time-clifs-dec-2017-report-the-soaring-20s.4141/
Questions for the higher self/ higher conscious mind, or soul
"Two of the most popular questions that people have about themselves are 'who am I', and 'what is my purpose'. If you could ask the higher self/ higher conscious mind, or soul, some questions, what would they be besides those obvious two that are mentioned above?"
https://www.transients.info/roundtable/threads/questions-for-the-higher-self-higher-conscious-mind-or-soul.600/
Mayan Astrology Readings — Find Your Dreamspell Galactic Signature
"Back in July, 2002, Tracey started the site www.lightcenterlove.com where she offers free Mayan based Astrology profile readings, but also a few other things including some great info. These readings are actually excerpts from the book, The Mayan Oracle: Return Path to the Stars, by Ariel Spilsbury & Michael Bryner. The book also comes with an oracle type of card system (like tarot)."
https://www.transients.info/roundtable/threads/mayan-astrology-readings-—-find-your-dreamspell-galactic-signature.4136/
Weather Manipulation Advocated in an Old 1959 Walt Disney Educational Film
"Way back in 1959, a Walt Disney educational film came out advocating drones, weather control, cloud seeding, climate modification, storm steering and wireless electromagnetic manipulation of the atmosphere. While folk have become privy of this in recent years, it's interesting how far back this was discussed publicly."
https://www.transients.info/roundtable/threads/weather-manipulation-advocated-in-an-old-1959-walt-disney-educational-film.4022/
Clif on his return to deep woo and why he's emphasized Bitcoin
"Here's a couple of minute extract from an ~2.5 hour interview Clif High recently did with Off Planet Media discussing Time and the ever present now. This extract comes from the last few minutes of the interview. In it Clif reveals he is going to be bringing forward more of the deep woo he used to address via his ALTA (aka webbot) reports. Clif also addresses the why behind his recent emphasis on Bitcoin (BTC) and what he is striving to enable."
https://www.transients.info/roundtable/threads/clif-on-his-return-to-deep-woo-and-why-hes-emphasized-bitcoin.4010/
The Aftereffects of a QHHT session
"I wanted to begin a thread for those of us who had a QHHT session & open up a dialogue of how it made you feel, how your life is changing, & what you're experiencing. We can read transcripts & watch sessions on Youtube, so I felt I needed to shine some light into this area as well. I'll be posting more in this thread, responding, & keep it updated."
https://www.transients.info/roundtable/threads/the-aftereffects-of-a-qhht-session.3790/
Kurt Leland — Teacher and Author (OBE, Psychic / Spiritual Development)
"Since I just today posted sth on Robert Bruce's AD forum about his brandnew book because Kurt was a member there and we have some 'fans' of him (including me) I thought I might make a short introduction thread about him here too. I am really lucky that during my early active and 'wild' years of learning to AP (seems I've now almost receded from it) I could talk online to many of the well-known OBE teachers including Robert Bruce (via his website/forum Astraldynamics in the AskRobert-section), Jürgen Ziewe (via Astralpulse in threads), Fred Aardema (via Astralpulse in threads), Tom Campbell (via his website/forum over pm) and last not least Kurt Leland (via Astraldynamics in threads)."
https://www.transients.info/roundtable/threads/kurt-leland-—-teacher-and-author-obe-psychic-spiritual-development.1680/
How I am co-creating in the raised frequencies
"As some of you know, I recently started a volunteer role with an aged nursing home. This started only 3 weeks ago. I now have a core of 5-10 ladies who are knitting for our project, and we are well on the way to making something of it. I had the idea the day before I started, just came to me, and I created the design in one night. Everything about it, including the number of stitches, size of squares, colours, materials – everything just came to me without much thought, just fell into place. And one of my lady knitters said to me yesterday: "Well, you're going to be busy sewing this up, because you've got your elves hard at work!""
https://www.transients.info/roundtable/threads/how-i-am-co-creating-in-the-raised-frequencies.4084/
The Keirsey Temperament Sorter — Share your Personality Results
"KTS, originally designed by David Keirsey, is a series of 70 questions that help to determine which one of the sixteen role variants you come under. The purpose is really about becoming more self-aware, and therefore learning additional data to help you understand yourself better and why you do what you do. In a way, this reminds me of an astrological profile, but from a pure psychological perspective."
https://www.transients.info/roundtable/threads/the-keirsey-temperament-sorter-—-share-your-personality-results.4119/
Evolving Beyond Spiritual Tools
"Another wonderful source of information I've been following for several years is Suzy Beiler. She provides fairly regular channelings and thought-provoking videos online–and much of her material has really resonated with me. I was really struck with her most recent video, in which she discusses the possibility of our moving beyond many of the spiritual tools we've become so used to. That is to say, instead of relying upon certain familiar tools (such as crystals, chakras, visualization, and substances such as Ayahuasca and essential oils, etc.) she suggests we start to consider actually embodying these tools and practices into our very Being instead. While this may certainly be a challenging process, it means that it may be possible to let go of any need for these tools."
https://www.transients.info/roundtable/threads/evolving-beyond-spiritual-tools.2099/
Preparing for death… the end of this life
"The only thing I recall always being really clear on regarding dying is that I hope someone has the temerity to laugh at my funeral. I hope there is something of my life that this laughing friend remembers which, in the atmosphere of high emotions present at a funeral, makes them take that leap into social impropriety that involves laughing when someone close to you has died. But really it's about my friends knowing me well enough to know that I'd be happy to have them laugh, even when I'm dead. From wherever I was, I'd hope to be laughing with them."
https://www.transients.info/roundtable/threads/preparing-for-death-the-end-of-this-life.2725/
Starseed Art
"I will enclose pictures in this thread of some of the things I have been working on lately. I'll create a collection of dolls and figures based on the ET species that I get to channel and see during the visitations."
https://www.transients.info/roundtable/threads/starseed-art.4138/
Post-blockchain…where things are moving as Bitcoin won't cut it for the longer term
"Bitcoin – I'm a fan. It is the poster-child for thinking differently about our currency and the way things work in the economy. It's a highly disruptive catalyst for change, and that is, I believe, for the good. Yet Bitcoin, and the blockchain technology on which it and other crypto-currencies are being built, has some fundamental weaknesses. A second wave of alternatives to fiat currencies are actively being developed that address the weaknesses inherent in the design of the blockchain. And not just for currencies but for even broader exchange-of-value uses."
https://www.transients.info/roundtable/threads/post-blockchain-where-things-are-moving-as-bitcoin-wont-cut-it-for-the-longer-term.3978/
Healing with the 7 Divine Rays
"Healing with the 7 Divine Rays is a very good way to be in tune with the energies that flow on Earth every day of each week. Once you tune in you know that they really come into your divine physical and subtle bodies, and you can use them, for your day to day self healing and mediation sessions."
https://www.transients.info/roundtable/threads/healing-with-the-7-divine-rays.4142/#post-25617
My favorite rock shop in New Zealand
"When it comes to stores selling stones, while they they not be common, there are a fair few, yet when it comes to a decent variety and reasonable prices, that is what I find a rarity. The Rock Fella fits my requirements for variety and price, but on top of that, he goes out into the New Zealand wild and locates his own rocks. In the back of his shop he has all the tools necessary to crack open, grind down, polish and shape the beauties.The Rock Fella in Motueka, New Zealand, also teaches people how to locate such gems, and how to use the various equipment to create something magical."
https://www.transients.info/roundtable/threads/my-favorite-rock-shop-in-new-zealand.4112/
Social Media & Email Subscriptions
I just want to remind everyone that transients and the Roundtable Forum has a presence on social media:
Facebook Page: https://www.facebook.com/transientsinfo
Twitter: http://www.twitter.com/transients_info
You can subscribe to front page article email notifications through the Subscribe item in the menu: https://www.transients.info/subscribe/.
For those using RSS feeds, our RSS URL is: https://www.transients.info/feed/. For information on what RSS is, head here. (Using RSS just saves you time, as you don't need to visit multiple websites to check for updates, but the one site, or app, which you add URL feeds to from the sites you want to follow).
I hope you all have had a great December, whatever celebrations you may have been a part of. I created a thread on the Roundtable Forum on Christmas day, to provide a space for all of us to share, whatever we felt compelled to share, which also included a list of many other celebrations going on that month. You can find that thread here: (You need to be registered to access it) The Merry Christmas Thread (And other December celebrations!).