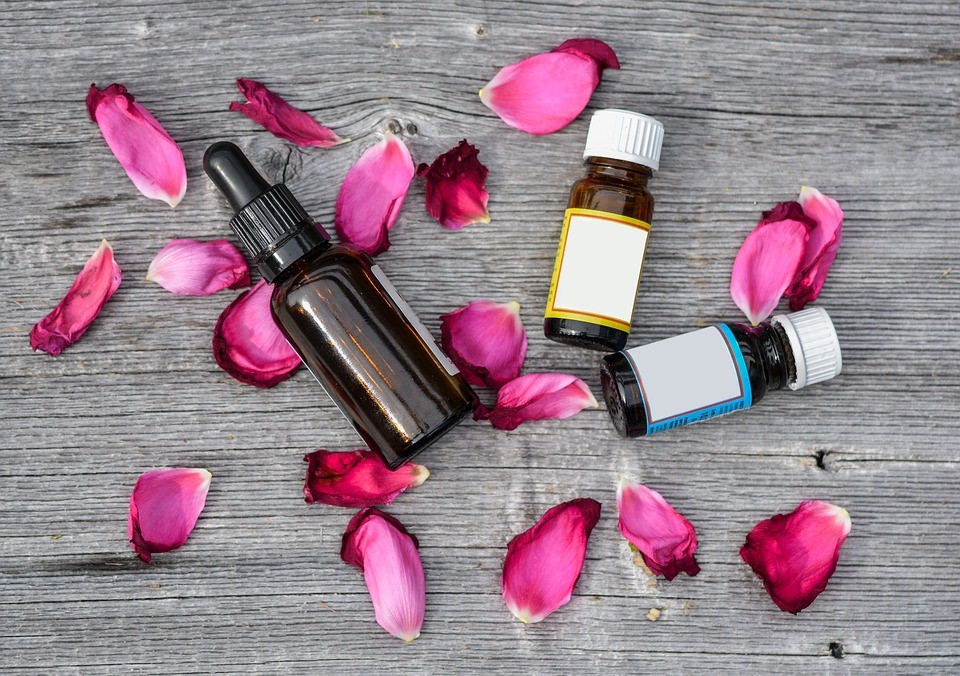 By guest contributor Mike Jones
Each type of skin has its own care needs that must be met for the complexion to look and feel refreshed and healthy. Essential oils have beneficial properties in this department, which is why they have been used for beauty purposes for a long time now. Needless to say, different essential oils work best for different skin types. Here is everything that you need to know.
Essential Oil vs. Carrier Oil
Even those who are beauty-savvy sometimes mistake carrier oils for essential oils. The confusion comes from the fact that both are vegetal oils. The difference is that they are extracted from different parts of the plant. Essential oils tend to have a higher concentration. This is why you need only a few drops. Also, you should pay attention when applying them on the skin. Some need to be diluted with a carrier oil beforehand.
Also, essential oils are mixed with carrier oils so that their beneficial effects can come to the foreground. Furthermore, essential oils are not technically oils at all, but rather volatile substances that evaporate if left in the open air for too long. Thus, they need a base to balance them.
Carrier oils do more than just carry and dilute essential oils so that they are safe for use. They also have their own added benefits that make them amazing skincare ingredients on their own. However, the two are customarily used intermixed.
What to Use for Each Skin Type
Everyone knows that each skin type requires a type of care that is targeted specifically for its needs and problems. Here is one essential oil that is good for each type.
1.      Oily Skin
Oily skin is characterized by excessive sebum production that leaves the complexion looking and feeling greasy. This surplus also clogs pores, which can lead to breakouts and even acne. Fortunately, there is an organic solution for this.
Due to its antiseptic properties, tea tree oil is the perfect natural solution for treating an oily, acne-prone complexion. In fact, it can be used to treat similar problems on all parts of the body as well. Tea tree oil is one of the best home remedies for boils on buttocks, chest, legs and other body parts.
2.      Dry Skin
In the case of dry skin, there is a lack of moisture at the level of the corneous layer. This results in flakiness, dryness, tightness and dull appearance. Thus, what this type of complexion needs most is a boost of hydration.
Sandalwood oil is known for its emollient properties, making it the perfect choice for someone struggling with dry skin. And even if yours isn't typically dry, but you experience the infamous "winter itch" and need extra moisture during the cold season, this handy little essential oil can help you.
3.      Combination Skin
It's no secret that people with combination skin have it the hardest. The two most dreaded characteristics of oily and dry  meet on the same face, which can make skincare rather confusing. People with an oily complexion tend to avoid heavy moisturizers, while those with dry tendencies need them like air.
So, what can help you when your skin is both oily and dry? The answer lies in lavender oil. Among the many health benefits of lavender oil, it's positive effect on the epidermis is also to be noted. What makes it perfect for combination skin is its ability to treat breakouts, while at the same time moisturizing dry patches.
4.      Normal Skin
If you're lucky enough to have a normal and balanced complexion, then you can go easy in your beauty routine. However, even if your complexion isn't overly dry or oily, you might still get dark spots and redness. Frankincense oil is the perfect solution for these problems because it evens out the color of your complexion naturally.
This essential oil is a good addition to any household because it's a great natural cure for the flu as well. Thus, even if you don't use it on your skin that often because you've been blessed by nature, you can still put frankincense to good use.
5.      Aging Skin
Many people past a certain age struggle with aging skin. While this is something natural that happens to everyone, it's understandable that we want to at least slow the process down. Luckily, there is a completely natural way to do that.
Tangerine oil is ideal for aging skin due to its cytophylactic properties. This means that it stimulates the formation of new cells, as well as the cellular material, which helps with regeneration of the surface layer. Furthermore, it also acts as a toner, fortifying and tightening your complexion for an overall fresher and younger appearance.
Conclusion
If you've decided to integrate essential oils into your beauty routine, there is certainly at least one out there that is beneficial for your complexion. The only thing to do before you get started is accurately establish which of these five skin types fits yours.