We know there are big algae farms producing "crops" for food, personal products, and energy. So why would there be an interest in a local algae farm?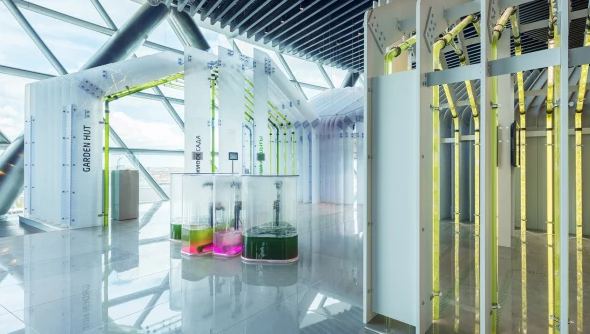 I believe that we are seeing moves in many areas away from centralized production and even government.
Many people are choosing to eliminate the third parties / middle men from their lives. Blockchain is a good example.
When we are closer to what we use, we become more aware. If we can see the algae that is harvested for production of electricity or as a replacement for palm oil, we become aware of products that rely on processes that damage our environment.
In a prototype of an urban algae farm now on display in an exhibition in Kazakhstan, designers from the London-based ecoLogicStudio worked with marine biologists and algae farmers to show how algae could fit inside existing buildings where people live and work. In one room, coils of lightweight glass tubes are suspended from the ceiling, attached to pumps that visitors can press to send carbon dioxide to the algae and help it grow. In another room, the only light comes from bioluminescent bacteria. A third space shows how the algae can be harvested and transformed into either food or energy.
The prototype is conceptual rather than something the designers plan to produce. For algae to scale up in cities, they say, there will have to be a major shift in how people think about infrastructure and where food and energy are supposed to come from. They might also have to think differently about algae as food. To that end, the designers have worked with chefs to experiment with recipes that could be more appetizing to consumers than the typical pill or green juice–like a dessert made with algae, cream, and cinnamon. (Source)